We're All The Rock Reacting To His Daughter Asking Him To Assemble A Barbie Dreamhouse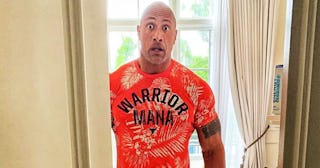 The Rock/Instagram
The Rock is every parent trying to get out of building a Barbie Dreamhouse
Parents will do almost anything for their kids and Dwayne "The Rock" Johnson is no exception. Correction — anything but put together a Barbie Dreamhouse. Really, who can blame him?
"My 'On my way out the door to get my morning workout in before work and my 3yr old Jazzy says Daddy can you put together this Barbie house please' look," he wrote on Instagram next to a picture of him looking proportionately shocked in comparison to the hell that is assembling things for our kids. He's been here before, folks. He knows what's in store, which is why he threw mommy under the bus.
"Of course, I can sweetheart," Johnson continued. "Daddy can do anything, but let's get mommy because she's awesome at this and wanted to personally put it together for you." Well played, sir.
Johnson mentioned Jazzy's was "only" a two-story house and honestly things could be so much worse. According to Mattel, there's a Dreamhouse out that has "three floors, eight rooms, an outdoor area, a rooftop pool and slide, a working elevator, and 70+ accessories!" But wait, there's more. "The garage is big enough for Barbie doll to park any of her vehicles, even the camper!," which is code for, "I hope you didn't have any big plans for the weekend."
I'd like to enter into evidence the following in case you've never had the pleasure of putting one of these puppies together yourselves:
If you follow The Rock on social media, you know he is an involved father to all three of his girls. His younger daughters, Jazzy, three, and Tiana, one, keep him on his toes and he often posts about the highs and lows of his dad life. He's regularly late to appointments so he can get personal manicures and gets up at the ass-crack of dawn because that's when kids want to play.
"Working late and had only 3hrs sleep when this tornado busts in our bedroom, jumps on me and pleads with me to get up and take her to my closet (she keeps toys in my closet) to play," Johnson shared on Instagram last year. "We get there and then – surprise – she refuses to play and just wants me to hold her while she makes fart noises," he continued. To be honest, I don't blame her.
I mean, could he be any cuter?
My mom and dad put together a Barbie van for me for Christmas one year and I still hear about it (I'm 45), so it only makes sense that we should have to go through the same things for our kids as our parents did for us. It's one of those things you just have to pass on from generation to generation because are you even a parent if you haven't spent 75 hours swearing/sweating/drinking whilst trying to assemble something made of a million teeny-tiny pieces?
Good luck to his girlfriend, Lauren Hashian. Sending you all of our thoughts and prayers.