Dwayne Johnson Marries Lauren Hashian In Gorgeous Secret Ceremony
by Maria Guido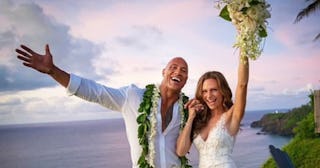 Dwayne Johnson is officially off the market
If you woke up this morning, grabbed your phone, and scrolled through Instagram (I mean come on, isn't that what we all do first?), you probably saw some images that made you collectively say "Awwww," then "Oh." Yes, everyone's favorite Daddy, Dwayne Johnson, is officially off the market. He and Lauren Hashian wed in a gorgeous secret ceremony over the weekend. And may we be the first to say, "Congratulations!" Followed quickly by, "I guess our dreams of being Ms. Rock are dead."
https://www.instagram.com/p/B1V5m7WFfUy/
The caption simply says, "We do" along with the date of their nuptials and according to his caption, a word that means "blessed" in Hawaiian. We'll embrace the use of #blessed in this case — because these too are pretty damn blessed.
Hashian and Johnson have been together since 2007, and share two beautiful daughters — Jasmine who is three years old, and Tiana who is one. Johnson also has an 18-year-old daughter from his first marriage to Dany Garcia.
We should've known this day was coming, because The Rock shares posts all the time that basically prove he's #husbandgoals.
https://www.instagram.com/p/Bj3JIWCF7Wk/?utm_source=ig_embed
"Mama @laurenhashianofficial has her hands full nursing/feeding Baby Tia, so I'm feedin' mama her dinner. My pleasure. So much respect to her and all mamas out there holding it down and running things." Swoon, and damn right. This man knows how to appreciate his woman.
https://www.instagram.com/p/B0RTlfUFDsk/
"I set the tone and tempo, but she'll always be the life anchor who makes this whole thing happen and shine," Johnson shared after the premier of Hobbs and Shaw. "Best part about this night is by 11pm, we're already at home, in our sweatpants and sippin' on tequila. My kinda night and my kinda gal." So they were basically already a married couple — they just had to make it official!
And Hashian knows how to gush, too! "Every day… every single day I wake up grateful, smiling, laughing at something you said, or something that's happening in our now busy home," she wrote in a birthday message to her man. "Even the imperfections of life, the ups and the downs, make this all perfect somehow. Because you're always aiming to grow, get better, gain wisdom from every situation, and genuinely learn from them. You never stop those things. You inspire me."
Congratulations to a couple we love and even though we're arguably jealous, best wishes for a lifetime of this kind of love and happiness.
This article was originally published on