Dwayne Johnson Shares One Of His Sweet 'Lil Quiet Moments' With Daughter, Tiana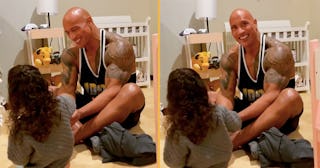 The Rock/Instagram
Hold on to your ovaries, the cuteness dial is set to maximum
Name one thing cuter than a parent bonding with their child. We'll wait. Dwayne "the Rock" Johnson displayed his mad parenting skills Thursday when he uploaded a cute video of playtime with his 2-½-year-old daughter, Tiana Gia.
In the video, the jacked star can be seen sitting with his legs crossed as his daughter gives him a make-believe Hawaiian shaved ice.
The proud papa asks his daughter what flavors Tiana has available, with Johnson requesting peanut butter and pancake flavors, then asking if she has "schnozberry flavor." The young girl says she has the flavor, and Johnson grins.
"Willy Wonka will be proud," Johnson says.
As the clip continues, Johnson echoes tired parents everywhere when he tells his daughter that his legs are getting tired from the posture he's in. In true toddler fashion, Tiana disregards his discomfort and keeps serving him pretend Hawaiian Ice.
"When it's time to go to bed these babies do everything they can to stay up longer — so this means daddy you have to sit criss cross apple sauce and not move while I serve you Hawaiian Shave Ice. For 20min," Johnson wrote alongside the video.
"Life is so busy. Pulls at us from every angle. Nonstop." the caption continues. "These lil quiet moments, with my babies — man I need these."
The actor and his wife, Lauren Hashian, are also parents to 5-year-old daughter, Jasmine.
Johnson features his children on Instagram often, with totes adorbs anecdotes that give fans a glimpse inside his life. A prime example? This two-photo gallery capturing a moment of good-natured fun between papa and daughter.
"1st pic is lil' Tia's deep fascination with daddy's callouses and how they feel and what they mean?" Johnson wrote. "2nd pic is the look when I tell her 'it means that Daddy's actually a dinosaur who's 250 million years old'."
Another photo shows the tenderness and vulnerability that being a dad to daughters has brought out in the actor.
"Every man wants a son, but every man needs a daughter," the caption reads. "All my girls have become the great equalizers in my life — I'm surrounded by estrogen and wouldn't have it any other way. And man I hope she never gets tired of holding these big ol' dinosaur hands, though I suspect one day she will."
In a separate post that parents will instantly understand, Johnson shared how his little one needed to go to the bathroom — five minutes ago.
"Baby Tia said she had to pee pee, so we said no problem honey you have a diaper on," Johnson wrote. "Pee and I'll change it after. She refused to go in her diaper (I don't blame her:) and asked if she could pee on the grass. Sure, we're on private property, so daddy takes her to pee pee on the grass."
"But then she decides to renegotiate (again, I don't blame her;) and demands daddy pick her up because doesn't want to 'stand on the Lava Monster,' so I have to hold her while she pees….. all over my new white sneakers," he continued. "And if I ever find this 'Lava Monster' fella I'm whipping it's ass (hell, I'll take this precious memory over my sneakers any day)."
This article was originally published on