The Rock Has Thoughts On DJ Khaled's Refusal To Perform Oral Sex On His Wife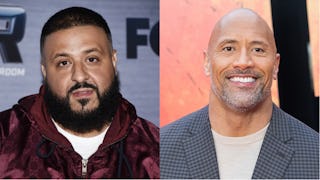 Image via Amanda Edwards/Samir Hussein/Getty Images
DJ Khaled won't go down on his wife because he is 'the king'
Dwayne "The Rock" Johnson is known for his brawn, action films, agile eyebrow, adorable Dad posts, and of course, his work in the ring. But it's his work out of the ring that have some raising their own eyebrow in delighted surprise. Except, that is, for DJ Khaled.
If you haven't heard of DJ Khaled, a record producer, label owner, and DJ who I only know about because I have kids between the ages of 12 and 14 admitted during a 2015 interview that he refuses to perform oral sex on his wife. This, in and of itself, is completely meaningless news (except maybe to his wife). But what is awesome is Johnson's response when he heard about it after the clip recently resurfaced.
Earlier this week, The Root tweeted a link to an interview DJ Khaled did with The Breakfast Club in which he said doesn't perform oral sex on wife, Nicole Tuck, but expects it in return because he's "the king" and because there's apparently "different rules for men," on some planet only men live unhappily on.
Enter Johnson, who listened to the interview and had a few choice words to say. "Ahem.. *clears throat* as a man, I take great pride in mastering ALL performances. This is probably a little TMI.. I will now quietly excuse myself from this fun thread," he tweeted.
https://twitter.com/jetpack/status/992986744445222915
During the interview, Khaled also admitted both parties in a relationship need praise, but he offers it to his wife, "the queen," by saying things like, "um, do you like the house you that live in," and "you like all them clothes you gettin?'"
Yeah. So, there's that.
There's a lot I want to say but I'll let the good folks of Twitter take it from here:
https://twitter.com/jetpack/status/993058329986584576
Actually, I am going to say a few words. First, it's your own personal business whether you go down on your partner. I mean, you're missing out if you don't (sorry mom) but hey, to each their own and all that. But publicly admitting what does (or unfortunately doesn't) go on in your bedroom is pretty childish. Though, one Twitter user pointed out:
https://twitter.com/jetpack/status/992514797232148480
Even actress Evan Rachel Wood and the band Smash Mouth got in on the action. And if Smash Mouth takes the time to respond, you know you fucked up.
Annnnd, if you thought his interview couldn't get any worse, just wait. He continued, "There's some things that y'all might not wanna do, but it got to get done. I just can't do what you want me to do. I just can't."
Yeah we just can't, dude.