The Rock Shares A Message To His 4-Month-Old, Ovaries Everywhere Explode
by Maria Guido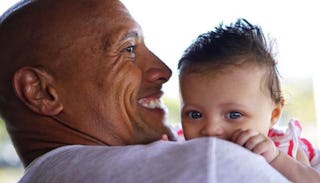 Dwayne Johnson took to Instagram to wish his daughter a happy birthday
Dwayne "The Rock" Johnson's daughter Jasmine is four months old this week, and Johnson shared an unbearably cute birthday message to her on Instagram.
What the hell is it with giant men and babies? Something about it makes me light-headed. I'm not weird. YOU'RE weird.
"I'm always asked – What inspires YOU," he writes. "My answer is easy and honest… what inspires me the most is always waitin' for me to walk thru my front door when I come home."
Johnson and his longtime girlfriend Lauren Hashian welcomed their daughter in December. Johnson periodically takes breaks from posting images of filming and working out to remind everyone he's the most adorable dad around. He posted an image right after she was born that will reduce you to a puddle of mush.
"Happy 4-month birthday Jasmine! One day you'll know just how happy, proud, lucky and blessed you, your sister and your mama make me," he writes. "You'll also thank me one day for your toughness and your mama's everything else."
Seeing celebrity dads gush about their kids on social media never gets old to me. I grew up with a very serious Italian father, and he never was able to express himself like this. Some people get weird about celebs sharing personal details on their social media channels, but one day his little girl gets to look back and see all the ways that he adored her. And that's pretty amazing.
Also – who doesn't want to look at pictures of adorable babies — and The Rock, for that matter. Keep 'em coming, please.