The Rock Shares Baby News In Adorable Instagram Post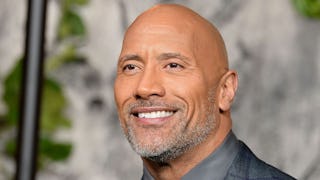 Image via Jeff Spicer/Jeff Spicer/Getty Images
The Rock let his daughter help share some exciting news
If you follow Dwayne "The Rock" Johnson on Instagram, you know a few things: he's very muscle-y, he's usually smiling, and he freaking loves his daughters. That's why his latest post is so exciting — he's getting one more little girl in his life.
Johnson and girlfriend Lauren Hashian made the exciting announcement of a new addition to the family by way of an adorable photo of daughter Jasmine, who turns two later this week.
The caption reads, "Our Jasmine Lia would like to make a big announcement – IT'S A GIRL!"
SQUEAL. First of all, this child is the most precious thing to ever sit in front of a Christmas tree. Second of all, read the rest.
"@laurenhashianofficial and I are boundlessly grateful for this blessing as this spring we'll welcome our second baby.
Plus, Jazzy is excited to boss around and protect her lil' sis," he writes. "And once again, big daddy is completely surrounded by beautiful estrogen and loving, powerful female mana."
OK, that's unbelievably adorable. Johnson, also dad to 16-year-old Simone Garcia Johnson, daughter with ex-wife Dany Garcia, clearly revels in his "girl dad" status and it's too sweet. Alongside Instagram photos and videos of him doing press for his films and actually filming are images of his daughters, who he's obviously very proud of.
He also never hesitates to share extremely real dispatches from the bottom pits of parenting, including this epic post about little Jasmine literally pooping down his neck.
Or the time he bent himself in half so he could change Jasmine's diaper on a plane. We're seriously swooning.
Johnson is a proud dad who loves showing off his kids and publicly professing his affection and admiration for them. The cuteness is almost too much to take.
He wraps up his announcement with the sweetest sentiment.
"All girls. One dude. And a boy dog. I wouldn't have it any other way."