The Rock's Feminist 'Goals' For His Daughter Are Right On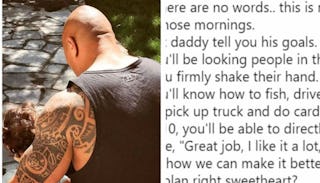 Image via Instagram/ The Rock
"By 5, you'll be looking people in the eye when you firmly shake their hand."
Being a dad, whether you're raising a boy or a girl, is a pretty amazing gift. But there seems to be this really unique bond that many fathers have with their daughters. No one exemplifies this connection more right now than Dwayne "The Rock" Johnson who captured a sweet heart-to-heart moment with his 16-month-old daughter, Jasmine.
The "Fate of the Furious" actor, who often plays tough guys on screen, showed a softer side on Instagram this week. "There are mornings in life where there are no words.. this is not one of those mornings," he wrote. "Jazzy, let daddy tell you his goals."
What came next in his post is so incredibly precious:
"By 5, you'll be looking people in the eye when you firmly shake their hand. By 8, you'll know how to fish, drive daddy's pick up truck and do cardio. And by 10, you'll be able to directly say to people, 'Great job, I like it a lot, but let's see how we can make it better.'"
We know these are his daddy goals, but damn, they're giving us #parentinggoals all day. We're also getting serious feminist vibes from Johnson. The man is clearly helping to raise a strong, assertive, and confident girl.
The post ended so appropriately given the age of his daughter. He said at the end of their talk Jasmine said, "Buh!" as she pointed down at the ground. She was pointing to a bug. No doubt the little girl was internalizing her dad's wise words, even if she was more concentrated on a bug.
Jasmine is Johnson's youngest daughter whom he fathered with Lauren Hashian. The couple has been together for over 10 years. He also has a 15-year-old daughter named Simone with his first wife Dany Garcia.
On social media, Johnson regularly shows the world that he's a loving and hilarious dad. For Easter, he dressed up as the Pokemon, Pikachu, and posted a video of him on Instagram chasing his daughter around the house.
He wrote:
"I'm tired, today's my only day off, it's 118 degrees in this costume and Hobbs keep trying to p*ss on my leg. And I luv every minute of it. Bring it on. It's what daddy's do."
If you haven't swooned enough already, be prepared to want to hug this guy as you read the shout out he dedicated to the women in his life. For International Women's Day he posted a collage of photographs on Instagram and wrote, "Not a day goes by where I don't think about the women in my life, shake my head and consider myself the luckiest SOB on earth."
"I come from a family of beautiful, strong, diverse and intelligent women," he wrote. "They inspire and challenge me daily to become a better man, father and role model."
All of the feels.