The Rock Instagrams Feeding His Lady So She Can Be Hands-Free To Feed Their Baby
by Julie Scagell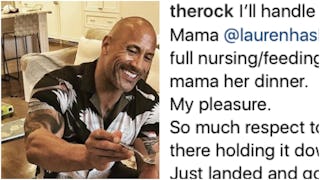 Image via Instagram/The Rock
The Rock feeds his wife so she can feed their baby and it's adorable
Dwayne "The Rock" Johnson is an actor, producer, semi-retired WWE wrester, and six and half feet of yummy, muscle-y goodness. He's also a father to three gorgeous daughters and it's in this role that he's gotten plenty of fans of his adorable dad skills. But in the latest picture he shared, he may have outdone himself — and that's no easy feat.
Johnson and longtime partner, Lauren Hashian, recently welcomed their newest baby girl, Tiana Gia in April (they're also parents to Jasmine, three). Since then, the couple have understandably had their hands full, which is why Johnson stepped in to feed his lady when she had no hands to feed herself.
"I'll handle this business Mama @laurenhashianofficial has her hands full nursing/feeding Baby Tia, so I'm feedin' mama her dinner," he wrote next to the sweet pic on Instagram. "My pleasure. So much respect to her and all mamas out there holding it down and running things. Just landed and good to get all my girl's settled in."
It's hard to know where in the world they're getting settled in — he has so many projects in the air including two upcoming movies and filming for his sports comedy show, Ballers. Wherever they are, it's clear he's putting his family first. He's also given women around the globe a visual of our "The Rock spoon feeding us while kneeling down at our feet" fantasy and for that we say "bless."
Johnson has always been quick to praise Hashian and all the moms out there. When Tia was born, he shared an adorable photo saying, "Tiana Gia Johnson came into this world like a force of nature and Mama @laurenhashianofficial labored and delivered like a true rockstar. I was raised and surrounded by strong, loving women all my life, but after participating in baby Tia's delivery, it's hard to express the new level of love, respect and admiration I have for @laurenhashianofficial and all mamas and women out there."
If you need us, we'll be over here sighing forever. It's clear that with all this mountain of a man fits into his day, he still manages to put his family first and for that, we love him.
This article was originally published on