The Rock Thanks Emergency Workers After Scary ER Trip With His Toddler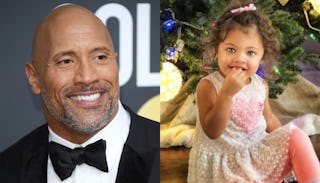 Image via Venturelli / Contributor/Getty Images/Instagram/Dwayne Johnson
After a night at the ER, The Rock thanks emergency workers and gives a little parenting advice
Dwayne "The Rock" Johnson is one of our favorite celebrity dads for many reasons. He posts precious photos and stories about his daughters, whom he clearly adores, and he keeps it very real with all things parenting. Usually his stories are light-hearted (hello, getting baby poop down his back) but sometimes, things get serious. Like yesterday when he shared that his toddler had to go to the emergency room over the weekend — aka, a nightmare for any parent.
Johnson took to Instagram to share his message, which he delivered by video. In it, he explains that on Saturday, his family had a little scare ending in two-year-old Jasmine needing to visit the ER.
"This past Saturday night something happened to me and my family that I would never want to happen to any of you guys out there, but of course, emergencies do happen," he says. "We were up all night in the emergency room — we had something scary that happened with our little baby girl Jasmine. She's OK now, thank god!"
UGH. Any parent will have goosebumps after hearing that. Johnson didn't share details of what landed his sweet girl in the ER, but we don't even need to know them to understand how he was feeling that night.
Johnson shared his gratitude with all the emergency and hospital personnel who helped his family through their scary night. He gave a shoutout the 911 operator who helped him keep his cool, the LAFD, and the doctors and nurses at UCLA. He also has a little advice for other parents going through such a terrifying moment:
"To all you mommies and daddies out there, when emergencies like this happen I would just highly recommend that you stay as calm and as focused as possible because our little babies — they pick up on what we're putting out, especially in times of stress."
This is so incredibly true. The times I've let my kids see my panic about their illness or injury I could feel their own nervousness creep up. It's a practiced thing for me now after a decade of motherhood — I've gotten much better at hiding it when I'm afraid something is seriously wrong. But I know they can still sense my nerves, so Johnson's advice to keep calm rings true.
Ironically, Johnson very recently shared that he was updating his CPR skills — along with everyone else in his household. "Since we have another baby girl on the way – I wanted to make sure myself, my family and our staff took another choking prevention and CPR course on infants, children and adults."
Could he be more amazing?
So now, we have some excellent advice on keeping our chill when experiencing a "hairy" parenting moment and a solid reminder to update those CPR skills. Can we just make The Rock our life/parenting coach?