The Rock Opens Up About His Battle With Depression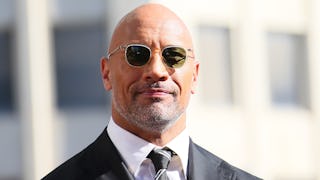 Image via JB Lacroix/ WireImage/Getty Images
In a recent interview, Dwayne "The Rock" Johnson talks about his history of depression
Dwayne "The Rock" Johnson is basically a top-shelf human being. We know from his frequent (and adorably gushy) Instagram posts that he's a doting and involved dad who wants to raise his daughters to be strong women. We know he loves a good "cheat day" even though he provides plenty of workout motivation with his posts about the gym alongside those tempting stacks of pancakes. Now, we know something else about the larger-than-life actor.
He battles depression, just like so many of us.
In an interview with The Express, Johnson opens up about living with depression and the scars left by witnessing his mother's suicide attempt when he was only 15 years old. "I reached a point where I didn't want to do a thing or go anywhere. I was crying constantly," he says.
Johnson tells the story of his mother's attempt at taking her own life, shortly after they were evicted from their apartment. "She got out of the car on Interstate 65 in Nashville and walked into oncoming traffic," he says. The teenage Johnson watched as cars and trucks swerved to avoid hitting her. "I grabbed her and pulled her back on the gravel shoulder of the road," Johnson shares. He's written about it before in a heartbreaking Instagram post.
https://www.instagram.com/p/Bepdn7llGWc/?utm_source=ig_embed
"What's crazy about that suicide attempt is that to this day, she has no recollection of it whatsoever. Probably best she doesn't," says the Jumanji star. After going through that difficult time, injuries ended his dreams of becoming a professional football player. He signed with the Canadian Football League but was released in a year. Then, his girlfriend broke up with him, a time he now calls "my absolute worst."
But he and his mom's takeaway after the tough times? "We both healed but we've always got to do our best to pay attention when other people are in pain," he said. "We have to help them through it and remind them they are not alone."
Johnson's fans had a huge response to the actor opening up about his battle. He tweeted his appreciation and more advice, particularly for men dealing with the "sludge/shit" we go through in life.
"Took me a long time to realize it but the key is to not be afraid to open up. Especially us dudes have a tendency to keep it in. You're not alone," he writes.
He even responded to a man who had the courage to share that he too was struggling.
One Twitter user pointed out how surprising it is to hear that someone with Johnson's generally happy and strong persona can also suffer from depression — which makes it even more helpful that he's sharing his truth.
Men in particular don't open up as easily about their struggles with mental illness, depression, and anxiety. If I had to venture a guess as to the reason, it's probably because our society is still making men feel like they have to appear "strong" and to be honest about their depression could be seen as "weak," which is exactly what Johnson is alluding to when he tells fellow men they're not alone. "No shame in getting help and wanting to be better," he says.
And he couldn't be more right.
If you or someone you know is considering suicide, please contact the National Suicide Prevention Lifeline at 1-800-273-TALK (8255).