This Tribute To Dwyane Wade Is Going Insanely Viral Because It's Breathtaking
by Valerie Williams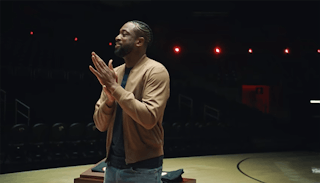 Image via YouTube/Budweiser
Dwyane Wade's final NBA season was the perfect moment to highlight all the wonderful things he's done for others along the way
It's Dwyane Wade's final season playing for the Miami Heat and even if you don't follow the NBA, chances are, you know not only his name, but some of his good deeds. The man is simply a stand-up human being in every sense and in honor of his numerous kindnesses over his time playing, Budweiser rolled out a tribute that's guaranteed to leave you in a complete puddle of tears. Seriously, it's a lot — get the tissues.
The video highlights the stories of five people Wade's somehow helped over the years including a young woman who lost her brother in 2018's Parkland school shooting, a woman whose college tuition was paid by Wade, a man who grew up in a poor neighborhood and was inspired by the NBA star, and a woman who Wade took on a shopping spree after her family lost everything in a house fire. Oh, and his own mother, Jolinda, makes an appearance and that's when all of my mascara started sliding down my cheeks and I had to take a breather.
If you need a minute to compose yourself after watching that, no one will judge you. It's a very powerful four minutes.
Throughout his final season, Wade has been exchanging jerseys with fellow NBA legends. In that vein, the five people featured in the spot each have a special piece of clothing to gift him as they tell their touching stories about his impact on their lives.
"Without you and your full-tuition scholarship, none of this would've been possible," explains a young woman who handed Wade her college graduation gown.
The woman who lost her home to a fire reminds Wade of the way he stepped in after her family's tragic loss and helped them get back on their feet. "It just meant the world to me that you were there for us at this time," she tells him. "You became our hero."
The young man who grew up in a poor Miami neighborhood saw Wade as an inspiration. "A lot of the words that you said hit a spark and kind of changed where I was going," he tells him. He gave Wade the blazer he wore to his very first job interview.
The sister of Joaquin Oliver, one of the 17 people killed at the massacre at Marjory Stoneman Douglas High School last year, had her brother's last jersey. She told Wade that Oliver "…loved you, from the beginning." The star wrote Oliver's name on his shoe after the shooting. "You cared," she said as she handed him her brother's jersey.
But it was his mother, Jolinda, who really got the waterworks going. She told Wade that her time in prison changed her and that it was her son being there for her through it all that made it possible for her to turn her life around. "You were the joy of my life," she tells him. We're not crying, you're crying.
He bought his mother a church after she was released from prison. She tells him he doesn't know how many lives he changed with his generous move. "I am more proud of the man you have become than the basketball player," Jolinda tells him. "You are bigger than basketball."
"We're honored to raise a Bud to Dwyane Wade to celebrate his legendary NBA career," says Monica Rustgi, Budweiser's marketing VP, in a statement about the tribute. "We take pride in telling the stories that connect sports legends to their fans. While Dwyane Wade is one of the greatest to ever play the game of basketball, we wanted to showcase his even-greater impact and legacy off the court."
Wade's wife, Gabrielle Union, shouted out her husband this morning on Instagram using his mother's words — "Bigger than basketball."
And for the record, Union's in tears right along with us.
This man is clearly so much more than an awe-inspiring superstar athlete. He's an awe-inspiring superstar human, and we can't wait to see what else he does once his time on the court is through.