Dwyane Wade Wishes 'Boss A** Wife' Gabrielle Union A Happy Birthday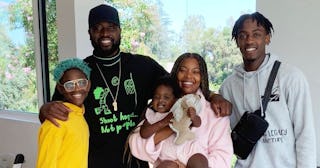 Dwyane Wade/Instagram
The 'Beautiful, Brilliant, Don't take no SH*T from nobody' Union turned 48 this week
Former Miami Heat guard and husband of one Gabrielle Union, Dwyane Wade, took to social media to wish his wife a very happy 48th birthday. The father-of-four has been married to Union since 2014 and they share parenting duties to his three kids — Zaya, Zaire, Xavier — and their daughter, Kaavia. They are always ones to praise each other (and their kids) on social media, and her birthday was no exception.
"Screaming HAPPY BIRTHDAY to my Beautiful, Brilliant, Don't take no SH*T from nobody, Boss a** wife @gabunion," Wade wrote on Instagram.
"Thank you for being the model for our daughter that you are and always willing to go to the kids school when they don't feel they're getting a fair shake," Wade continued. "I'm inspired to wake up and be greater because I get to watch your grind day after day. 🥂 to more adventures and not giving a F**k about what others say about you nor our families dynamic. Keep growing and going."
The nod to his family is a big one as both have been outspoken in their support for daughter, Zaya, and the LBGTQ+ community. Union recently wrote in a note to Zaya, "You are such an inspiration and motivation to get my butt up everyday and fight. When I'm weary, frustrated, full of rage, I see your face and your joy and you living your best life and I want that for all of us." She paired the caption on Instagram with an adorable picture of the two of them.
In March, Zaya made her first red carpet appearance with her parents at Los Angeles' Truth Awards, which celebrate the Black LGBTQ+ community.
Union — who recently published Welcome to the Party, a book about non-traditional families inspired by daughter Kaavia James — was asked on The View if she had advice for other parents who were a part of the community or struggled to find the right way to best support their LGBTQ+ child. "Love your child, listen to your child, accept your child," she said. "Reject the notion that your children are disposable if they're not mini versions of you."
Tarana Burke, the founder of the #MeToo movement, also praised Union for her vocal support of her step-daughter and for the community as a whole. After selecting the couple for TIME magazine's 100 Most Influential People of 2020 list, Burke wrote that Union is "intentionally directing her attention, influence and resources to advance an agenda that deliberately celebrates the most marginalized among us, including Black women and girls and queer and trans folks."
Union has also shared Zaya's transformation on social media. "Meet Zaya. She's compassionate, loving, whip smart and we are so proud of her," she wrote. "It's Ok to listen to, love & respect your children exactly as they are. Love and light good people."
Here's hoping the gorgeous couple are celebrating her birthday in style.
This article was originally published on