Dwyane Wade Gracefully Shuts Down Homophobic Discussion About His Child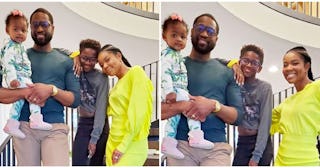 Instagram
Dwyane Wade shuts down homophobic discussion about his kid after Gabrielle Union shares Thanksgiving snap of the whole family
Gabrielle Union and Dwyane Wade's family has been criticized by homophobic social media commenters in the past about Wade's child Zion's gender expression, but Wade's latest clapback in defense of Zion is a masterclass in grace. Zion — Wade's 12-year-old child from a previous marriage — was criticzed on social media for having long painted nails and for wearing a crop top. In the past, Dwyane has referred to Zion as his son, but in a social media from October 2019, Dwyane shared a photo of Union, his daughter Kaavia, and Zion and lovingly captioned the pic, "my girls." Since then, social media trolls have been ruthless to the Union-Wade brood when it comes to Zion's gender identity and expression.
On Thanksgiving, Union shared this sweet snap of her happy, healthy brood.
But after Union shared the photo, hateful commenters zeroed in on Zion's nails and shirt.
"Why does his son have his nails done and dressed like a girl?" wrote one commenter. "Fingernails and tank top smh," wrote another, while capping their point with "leading kids to destruction."
Never one to be silenced, bullied, or made to withstand hateful and homophobic rhetoric, Wade took to Twitter to say this in defense of his child.
"I've seen some post-thanksgiving hate on social about my family photo," Wade tweeted. "Stupidity is apart of this world we live in—so i get it. But here's the thing—I've been chosen to lead my family not y'all. So we will continue to be us and support each other with pride, love & a smile!"
Wade also tweeted: "As a parent my only goal is that my kids feel that i see them , love them and support them."
Wade has been modeling his love for Zion through action and even designed a shirt that read "Please Remain Inclusive & Dedicated to Equality," and donated half the proceeds of the shirt sales to GLSEN, an education organization that works to end discrimination and and bullying of LGBT students in k-12 schools through education and awareness. Plus, Wade made a $50,000 donation to the organization on behalf of the whole family.
Earlier this year, Wade's wife Union took Zion to Miami Pride while Wade was traveling for work and when asked about his child's experience at Price, Wade responded perfectly.
"I don't really talk about it much because it's Zion's story to tell," Wade told Variety. "I think as a family, we should support each other. That's our job. And my job as a father is to facilitate their lives and to support them and be behind them in whatever they want to do."
Wade and Union are setting a beautiful example of what unconditional love, acceptance, and support truly means.