Dwyane Wade's Son Posts Sweet Message Of Support To His Sister Zaya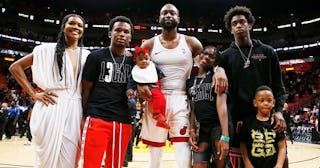 Michael Reaves/Getty
Dwyane Wade's son Zaire gave a heartfelt shout to his sister Zaya after she publicly came out as transgender
Dwyane Wade and his wife, Gabrielle Union, shared this week that their daughter Zaya came out to them as transgender. Wade appeared on The Ellen DeGeneres Show and basically taught a masterclass in great parenting by explaining how he and Union have helped Zaya in her journey to live as her true self. Now, it seems the apple doesn't fall at all far from the tree, as Wade's son Zaire posted a sweet message of complete support to Zaya — just like a loving sibling would.
"Man, I remember bugging my mom as a kid telling her I wanted a brother so bad," he wrote. "I was the only child looking for company and someone to look after and take care of. I have been blessed to have my best friend, Zaya with me for 12 years."
https://www.instagram.com/p/B8d9E_OH4ag/?utm_source=ig_embed
In tears yet? They're about to flow harder.
"We did everything together…we fought, we played, we laughed and we cried. But the one thing we never did was leave each other behind… I've told you that I would lay my life down to make sure you are ten toes down and happy on this earth," he writes. "I don't care what they think Z, you are my best friend and I love you kid, and if it means anything, just know there's no love lost on this side."
Now that my entire face is wet and I've gone through 14 tissues, we can discuss how positively heartwarming this is to see. Beyond heartwarming, it could be life-saving. Trans youth who are rejected by their families are at higher risk for depression, mental health problems, risky behavior, and in the worst cases, homelessness or suicide. The support of family means everything, and it's clear that Zaya has it. Aside from Zaire's beautiful words to his sister, her father and stepmother have both been very vocal in their support.
After Wade appeared on Ellen and talked about how Zaya came out to them, Union shared a video of Zaya talking about the importance of being true to yourself. "Meet Zaya," Union writes. "She's compassionate, loving, whip smart and we are so proud of her. It's Ok to listen to, love & respect your children exactly as they are. Love and light good people."
She also shared a family photo last year that had trolls commenting on Zaya's nails. The Union-Wade family was 100 percent not here for it. ""I've seen some post-thanksgiving hate on social about my family photo," Wade tweeted at the time. "Stupidity is apart of this world we live in—so i get it. But here's the thing—I've been chosen to lead my family not y'all. So we will continue to be us and support each other with pride, love & a smile!"
It's wonderful to know that Zaya is surrounded by love and support as she lives life the way she knows is right for her. It's what every LGBTQ youth deserves.
This article was originally published on