Nurses Ignore Hospital Rules To Grant Dying Man His Final Wish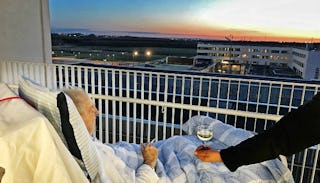 Image via Facebook.
Hospital staff broke the rules to help him die in peace
When someone's preparing for their last days, you want to make them as comfortable as possible. That's why a group of nurses defied their hospital's regulations and granted a dying man his final requests: to smoke a cigarette while sipping white wine and watching the sunset.
When Carsten Flemming Hansen, 75, checked into Aarhus University Hospital in Denmark, he found out his condition was terminal. Medical professionals said he had suffered an aortic aneurysm and internal bleeding and expected him to live just a few more hours or days. Hansen and his team of doctors decided to avoid an unnecessary operation and instead opted for what they called a "dignified" death.
"It was a very cosy and relaxed atmosphere," said nurse Rikke Kvist. "Of course there were relatives also affected by the fact he was going to die, and they were sad," she explained in a Facebook post the staff shared. The Facebook post quickly went viral. It's received more than 70,000 likes, and folks left more than 2,600 comments.
Even though the rules say patients and visitors can't smoke on hospital grounds, nurses felt like the special occasion was significant enough to defy the policy. They wheeled Hansen out onto a balcony that had a lovely view of a beautiful pink and orange sunset. He enjoyed a Green LA cigarette and drank a glass of cold white wine while surrounded by friends and family. In the post, the medical staff said the nurses who worked on Hansen and his family decided that his last wishes were more important than treatment, prevention, and smoking rules.
We all want this kind of compassion and understanding for our loved ones in their final moments. When it comes down to it, these nurses were completely in the right, even though they were "wrong" — giving a person a bit of comfort and joy at the end of life far outweighs the need to follow rules.
Sadly, Hansen passed away last Friday. We hope his family is comforted that he got to enjoy one last smoke, drink and sunset with those he loved.