In My Dysfunctional Family, Christmastime Was Our Only Joy
by Mary Widdicks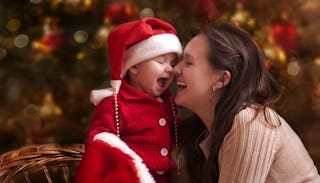 Julia Shepeleva / Shutterstock
Fa la la la la la la la la
'Tis the season to be…judgy?!?
Wait a minute.
I don't remember that line!
When did the holiday season become about forcing others to celebrate in precisely the way we feel is acceptable? Who defines acceptable? Should Christmas be more about religion, family, charity, food, friends or presents, and how do we know what combination is correct?
Christmas is a unique holiday in its ability to transcend culture, religion and generations. While the festival currently takes its name from the Christian form of the winter celebration, it has taken on meaning of its own for many non-Christian families as well. Festivus, Chrismukkah and Black Friday have sprung forth from the traditional holiday and taken on a life of their own—separate entities drawing their lifeblood from the same source of jolly, jingly magic.
Who doesn't love a fat man in a red suit?
In many ways, Christmas has become analogous for the type of integrated society we are striving to build.
Enter the Christmas police.
Along with the incessant diamond commercials, Rat Pack renditions of "Let It Snow," and daily reminders of precisely how many shopping hours remain before "the big day" come the debates: What is the "true" meaning of Christmas? Should it be about Santa, presents and sweets, or should we give Jolly Old Saint Nick the boot in favor of mangers, mass and Baby Jesus?
I can't tell you the number of times I've heard one side criticizing the other for destroying the spirit of Christmas with their commercialism, religious fanaticism, excessive drinking, overeating, wasteful lighting of candles, and pretty much any other holiday tradition you can imagine.
The only thing people seem to agree on is the fact that they wait all year for this beloved celebration, presumably because they have fond memories from their childhood of whatever ceremonies they chose to perform. Deep down, we all want the same thing: to recapture some of the magic we felt when we were young during a special time spent with loved ones in the long, dark hours of the winter.
Is it really possible to get that wrong?
I grew up in a household without a lot of tradition: cultural, religious, family or otherwise. We were a dysfunctional island unto ourselves, and thus we celebrated this most treasured of holidays in whatever fashion made sense to our family.
My father loved to buy presents, which is odd because I'm fairly certain Christmas shopping was the only kind of shopping he ever performed in the 20 years he was married to my mother. Eleven months out of the year, the man in our household was withdrawn, verbally combative, selfish and childish, but during the month before Christmas he changed.
I think the only time I ever saw my parents leave the house together without us was during the weeks leading up to Christmas each year. They would come home from the shops whispering conspiratorially and smuggling bags of goodies through the hallway to their bedroom away from prying eyes. The scene would hardly have raised an eyebrow in most families, but my parents didn't talk, let alone conspire together—except at Christmas.
Finally, after an advanced degree in psychology, more than two decades of distance, and having a family of my own, I have gained some perspective on my dysfunctional family. What appeared to be my father's heart growing three sizes in a Grinch-like Christmas miracle each year, was actually another of his limitations. My father only knew how to show love through material gestures. He would ignore my very existence through every school project, new friendship, broken heart, and hormonal meltdown I suffered, but on that one fateful day in December, he believed he could make up for it all by buying the perfect present.
Would I have rather had a participating and loving parent in my life? Of course, but that is adult reasoning looking back on a clearly troubled youth and making judgments. At the time, I didn't know any better. All I knew was that for a couple weeks every year, my family looked like the ones I'd see on television and in the movies.
I'd wake up Christmas morning to find my house and my life transformed: My little brother would be asleep on the floor beside my bed, my parents were asleep in the same room instead of one of them on the sofa, and the tree which had been bare and lonely the night before was suddenly covered in shiny tinsel and surrounded by mountains of packages. We would have breakfast together and then spend the entire day opening packages and watching the same Christmas movies on television every year.
I know now that all that glitter and tinsel was a poor substitute for the stable environment that every child should grow up with, but I still feel the thrill of the season each year when the Christmas tree goes up and the lights twinkle to life, like they are the answer to some unspoken question in my heart. I fiercely and steadfastly refuse to adapt what few traditions I remember from these times in my childhood. Laying any of them to rest would be like saying goodbye to a cherished friend and savior during a difficult time.
Christmas for me is about sharing what few happy memories I have with my children and trying desperately to hold onto the feeling of warmth and security I feel all year long. I think this is all anyone wants for Christmas.
I shop too much during the holidays. I buy too many gifts, put up too many lights, and watch A Christmas Story about a hundred times more often than any sane human being should. But it's not because I have been hopelessly brainwashed by a materialistic and consumer-driven society and have lost the true meaning of Christmas—far from it.
I spend the majority of my time as a parent trying to figure out how not to raise my children in the same environment in which I lived. Christmas is the one time of year I want to share with them my family traditions, however misguided they might have been.
So the next time you hear someone judging another family for their choices around the holidays, keep in mind that everyone wants the same thing out of the celebration: love, acceptance, security and just a few little treats. Christmas spirit doesn't have to look the same in every family or in every house, but it always looks the same on the faces of the children on Christmas morning.
Isn't that the point of Christmas, after all?
This article was originally published on