Dyson Finally Made An Affordable Vacuum! Too Bad It's For Your Kid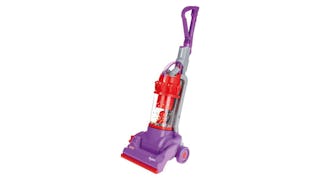 Image via Walmart
The kid-sized vacuum actually has suctioning capabilities, too
Kids love playing pretend. Some have imaginary friends, others play "house" and tend to mimic actions they see adults participating in. And as long as they're gonna pretend, they may as well be helping us out for real while they do it. That's why this new vacuum for kids that actually works is as genius as it is affordable.
The Dyson Casdon is an exact replica of the life-size Dyson DC14 Vacuum and according to the description, it works just like the original. "The Dyson Ball Toy Vacuum makes helping around the house even more exciting and realistic for your child, making them feel like part of your world."
Except in our world, a Dyson is the price of like, four months' worth of phone bills, not a mere $30 like this adorable kiddie version.
That's right, kids. You wanna be an adult? Here's 700 tiny loads of laundry, a wee mortgage you can pay out of your allowance, and a vacuum to endlessly clean your floors that won't stay that way for more than 15 minutes. Sure, you can go to bed whenever you want but you'll be so goddamn tired you'll be asleep by 8 p.m. And your carpets will be filthy despite all efforts to the contrary.
Welcome to adulthood.
Alas, kids do really love "helping" out (until a certain age, that is), so this would be a pretty cool toy. And at just $30, it won't break the bank like the adult variety.
"The replica design features real working suction, realistic sounds, bright colours, removable wand and different nozzles for the hard to reach places — just like the real thing," Dyson said. "The simulated cyclone action has moving colourful balls in a clear cylinder. Your little helper will really feel part of your world while developing essential life skills!"
I remember vacuuming was one of my jobs as a kid and I actually enjoyed it until I told my mom one day, "I'm pretending I'm your maid." She then told me in no uncertain terms that she doesn't know what kinds of kids I'm hanging out with whose families have maids but in this house we all pull our weight. About a week later our flimsy vacuum got replaced with one of those 500-pound silver Hoover numbers and I'm pretty sure that wasn't an accident.
This adorable Dyson would be the perfect gift for your little ones who love to play pretend and with all the cool noises and colors, it would keep them entertained while the adults get some housework done. Pictured below is a little girl but we'd be remiss if we didn't point out that boys vacuum, too.
Sounds like a win-win-win to us.
We are a participant in the Walmart.com Affiliate Program and may earn fees by linking to Walmart.com and affiliated sites.
This article was originally published on