Columnist Says Trump Raped Her In A Department Store Dressing Room
by Cassandra Stone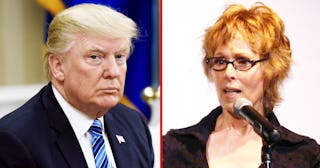 Olivier Doulier/Johnny Nunez/Getty
Writer E. Jean Carroll is the latest woman to accuse the President of sexual assault
A popular Elle magazine columnist has published her account of allegedly being sexually assaulted by Donald Trump 23 years ago. Writer E. Jean Carroll, whose "Ask E. Jean" column has run in Elle for more than 20 years, says Trump raped her in a department store dressing room. An excerpt from her forthcoming memoir What Do We Need Men For? A Modest Proposal appears in New York magazine's The Cut.
Carroll describes the encounter with Trump at Bergdorf Goodman in New York. He addressed her as "that advice lady" and asked her to help him shop for a gift "for a girl." He asked her how old she was, and when she replied, "52," he laughed and called her "old." Even though he was about the same age himself. He pushes her to try on lingerie, which he says he plans on buying for the gift recipient. She nervously agreed, thinking it would make for a funny story.
Be warned, the details of her horrifying account are vivid and very upsetting.
"The moment the dressing-room door is closed, he lunges at me, pushes me against the wall, hitting my head quite badly, and puts his mouth against my lips," she writes. "I am so shocked I shove him back and start laughing again. He seizes both my arms and pushes me up against the wall a second time, and, as I become aware of how large he is, he holds me against the wall with his shoulder and jams his hand under my coat dress and pulls down my tights."
She alleges, in full detail, Trump decked out in his full business attire including his overcoat, unzipping his pants and forcing himself on her via digital penetration.
"[He] thrusts his penis halfway — or completely, I'm not certain — inside me," she says. "It turns into a colossal struggle. I am wearing a pair of sturdy black patent-leather four-inch Barneys high heels, which puts my height around six-one, and I try to stomp his foot. I try to push him off with my one free hand — for some reason, I keep holding my purse with the other — and I finally get a knee up high enough to push him out and off and I turn, open the door, and run out of the dressing room."
Carroll says the entire episode "lasts no more than three minutes." She can't recall if anyone was working as an attendant to the lingerie department. She says she quickly got on the elevator and once she reached the main floor, she ran. "I run through the store and out the door — I don't recall which door — and find myself outside on Fifth Avenue."
After the alleged rape, Carroll says she immediately told two of her friends what happened. Both of them confirmed this to The Cut. One of her friends told her to report the incident to the police, and the other one advised her to keep it to herself, saying "he'll bury you." She decided to follow the latter friend's advice, that is, until now.
To date, Trump has been accused of sexual misconduct and assault by at least 16 women. He's denied each and every allegation, even though he's been caught on tape telling Access Hollywood's Billy Bush he's "grabbed women by the pussy" before, and none of these allegations, while horrifying, surprise anyone with sense.
Carrol says the White House has responded predictably: "This is a completely false and unrealistic story surfacing 25 years after allegedly taking place and was created simply to make the President look bad."
Funny, he really doesn't need anyone else to do that for him. He does a fine enough job of that all by himself.