Columnist Who Says Trump Raped Her Is Now Suing Him For Defamation
by Christina Marfice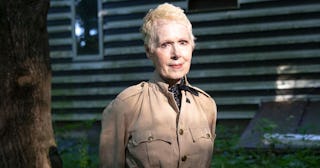 The Washington Post/Getty
E. Jean Carroll says her lawsuit is 'on behalf of every woman who has ever been harassed, assaulted, silenced'
E. Jean Carroll, the former talk show host who claimed in June that Donald Trump raped her in a department store dressing room in the '90s, is now suing the president for defamation after the way he attacked her while refuting her claims.
Carroll's account of the alleged rape included chilling details, and New York magazine independently corroborated her story with two friends whom she had confided in prior to publishing it. But of course, Trump denied the allegation, saying "she's not my type" as his first defense against the idea that he could have raped her.
"I'll say it with great respect: Number one, she's not my type. Number two, it never happened. It never happened, OK?" Trump said in an interview following the claim, adding later, "I have no idea who this woman is. This is a woman who's also accused other men of things, as you know. It is a totally false accusation."
Trump also claimed that he had "never met this person," but New York magazine published a photo of him and Carroll together at a party in 1987, so we know that isn't true.
Carroll's lawsuit points to those statements, plus more that Trump made, like claiming she was working with the Democratic party to carry out a political agenda and claiming she was making the allegations for fame or pay, saying they show a "reckless disregard for their truth or falsity."
Her lawsuit states, "Nobody in this nation is above the law. Nobody is entitled to conceal acts of sexual assault behind a wall of defamatory falsehoods and deflections. The rape of a woman is a violent crime; compounding that crime with acts of malicious libel is abhorrent. Yet that is what Defendant Donald J. Trump did to Plaintiff E. Jean Carroll."
Carroll also released a statement this week about the lawsuit.
"Decades ago, the now President of the United States raped me," Carroll said. "When I had the courage to speak out about the attack, he defamed my character, accused me of lying for personal gain, even insulted my appearance. No woman should have to face this."
She continued, "This lawsuit is not only about me. I am filing this on behalf of every woman who has ever been harassed, assaulted, silenced, or spoken up only to be shamed, fired, ridiculed and belittled. It's for every woman who can't speak up because she'll lose the job she needs to support her three kids. No person in this country should be above the law – including the President."
To date, Donald Trump has been publicly accused of sexual misconduct by 23 women. All the President's Men, a book by Barry Levine and Monique El-Faizy released last month, contains 43 more allegations against the president.