Southern California In State Of Emergency After 2 Earthquakes In 24 Hours
by Julie Scagell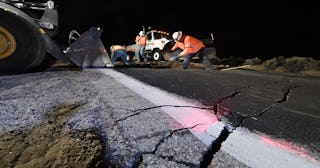 ROBYN BECK/AFP/Getty Images
It's the largest series of earthquakes to hit California in decades
Governor Gavin Newsom has declared a state of emergency for San Bernardino County on Friday after another, more powerful 7.1 magnitude earthquake in Southern California.
Not even 24 hours after a 6.4 magnitude earthquake hit the Ridgecrest area approximately 150 north of Los Angeles, residents were rocked with another one five times bigger. Friday's earthquake caused buildings to sway and cracked foundations, worrying residents enough that many are sleeping outside to avoid injuries inside their homes, CNN reported.
Thankfully, no deaths or serious injuries have been reported, but this most recent quake caused structure fires resulting from gas leaks. There are also reports of power outages, water main breaks, and downed wires, Mark Ghilarducci, Director of California Governors' Office of Emergency Management, said.
Local fire and police officials said they were initially bombarded by calls for medical and ambulance service, but "nothing but minor injuries such as cuts and bruises, by the grace of God," had been reported.
"On behalf of all Californians, I offer my heartfelt support to those affected by tonight's earthquake near Ridgecrest," Newsom said Saturday. "The State of California will continue to offer support to aid residents in the area."
Many offered reactions about their experiences on social media:
"It was about a minute long," Bakersfield resident Giovanna Gomez told CNN. "Far larger than the one that (happened) yesterday. It was a smooth roll going back and forth." According to experts, residents should be expecting fairly sizable aftershocks over the next couple of days, if not weeks, leaving many wondering what will happen next.
Lucy Jones, one of the world's foremost seismologists, told The Guardian that California residents should expect a "magnitude 8 every 100 or 200 years, a magnitude 7 about every 20 to 30 years, and a magnitude 6 every three years." Though people would like more predictability, Jones said that's not possible. "Earthquakes really are random. People are desperate for a pattern, but you really don't get to make one of it."
Jones also added that in terms of predictions, there is about a one in ten chance that another 7.0 quake could hit within the next week, the and chance of a 5.0-magnitude quake "is approaching certainty."
The earthquake could be felt for hundreds of miles. According to the Washington Post, Disneyland in Orange County and Six Flags Magic Mountain in Santa Clarita closed their rides, rattled Dodger Stadium in LA, and at New York-New York hotel in Las Vegas, the Big Apple Coaster swayed as the earth moved.
"Not many people can say they threw a strike during an earthquake," said pitcher Eric Lauer. "My ball, my pitch, started an earthquake."
For residents already on edge, the next couple of days will likely be a lot of impatiently waiting for the next event.