Easter Is A Week Away! Here's Some Basket-Filling Inspiration For You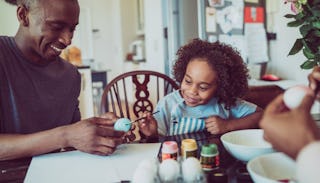 Portra / iStock
Do not come at me with the "What about the chocolate bunny, and Cadbury, and the Reester eggs?"
I include all the traditional fixins in my kids' Easter basket and encourage them to "Rot on!" for the day (or week). I don't like to hover and dole it out piece by piece after each meal. I'd rather they just have at it and be done. I'm just not interested in policing Easter baskets.
But that candy isn't an option for every family for various reasons, not the least of which is allergy/intolerance concerns. I like to include a few trinkets to keep them busy for the car ride to Nana's, and the inevitable sugar crash before dinner too.
So along with bubbles and sidewalk chalk (which are a yearly staple over here), I've found a few more ideas that should last beyond the holiday weekend.
Mini Playmobil Sets
These are fun by themselves or to add to their existing collection.
Card Games
These will keep them busy while the adults sip their favorite beverages and trade embarrassing family stories:
Craft Kits, for the kids' table:
Or a family movie:
I realize this veers into the territory of "overboard" for some, but I like to include things that will extend beyond the holiday. Things that I likely would have purchased anyway (like their favorite movie or a craft kit), but it feels extra special because I tucked it into a cute basket with some chocolate eggs and bunnies.
This post contains affiliate links, which means we receive a small portion of the sale if you make a purchase using this link.