Easter Christmas Trees Are Here To Brighten Our Living Room (and Mood)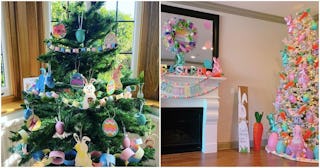 Instagram
Easter Christmas trees are here to make our spirits bright
As we look for any way to brighten our days from the horrifying news surrounding us on a daily basis, a new trend is popping up that may help us all — Easter trees.
In some neighborhoods, people are turning on their Christmas lights to help distract from the cabin fever many of us are feeling as we shelter-in-place and social distance to help stop the spread of coronavirus. But if you're looking for a more pastel way to decorate, consider putting up an Easter Christmas tree. They are adorable, season-appropriate, and will help pass the hours we're spending together.
People are sharing pictures on social media of their creations and the possibilities are clearly endless when it comes to decorating. Gone are the days of eggs for hunting-only purposes, now we can tie them to tree branches or hang them from plants.
https://www.instagram.com/p/B-QqkYqDU6b/
In Germany and Sweden, eggs have been used for centuries to decorate the branches of trees or plants as a symbol that spring has sprung and lucky for us, it seems to be gaining popularity in the U.S.
One woman took to Instagram, sharing her adorable tree, saying, "I saw a post about treating the lockdown like Christmas — we stay at home for a period over Christmas and love it was the gist, so why should this be different? So with that in mind, we got the Christmas tree down and decorated it for Easter."
https://www.instagram.com/p/B-kDDyigAf3/?igshid=h1r914200vlw
As you can see, the trees can be as elaborate or simple as you like. Regardless of the size, they will brighten up any living space.
This would be the perfect activity for kids of all ages and, depending on their age, leave them happily decorating so you can have a minute to drink your coffee, take a shower, or cry alone in your closet.
https://www.instagram.com/p/B-muWo6BXi3/
If you don't have any eggs handy, no problem. Let the kids use their imagination and make paper bunnies, eggs, and chicks out of whatever you have laying around the house. Since the Easter Bunny (aka parents) have the job of hiding the eggs and making Easter baskets for our kids, this is the perfect way to get them involved.
For many of us, we are scraping the bottom of the barrel for activities to keep us busy, so why not put up an Easter tree. There's no rush to take it down either, it will give us something to look at until the next holiday (July 4th trees anyone?).
Happy decorating!
This article was originally published on