Easter Ideas For Your Surprise-Egg Obsessed Kids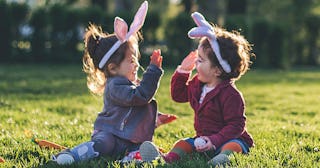 FluxFactory/Getty
Every Easter, we plan to do something extravagant. But then life happens.
Easter is only a few weeks away but, if you're not that one PTA mom who plans every holiday months in advance (Weird flex, but OK, Debbie.), it's likely that you haven't even started thinking about Easter yet. Or maybe you're so stressed out about your kids being home for spring break that you haven't had time to worry about anything else.
Well, we're also terrified of spring break. And luckily we're procrastinators, too. We've got you covered with some perfect time-saving Easter eggs that will arrive in time for the holiday.
Here are some ideas that include my kids' favorite thing: SURPRISE EGGS. Making you the coolest Easter bunny around. (You're welcome.)
These Prefilled Dinosaur Eggs come in a set of 12 eggs filled with mini dinosaurs and dinosaur stamps and are sure to be a hit. And they're on sale right now for $11.99! (Originally $29.99)
These prefilled Construction Vehicle Eggs are perfect for baskets and/or Easter egg hunts. They come in a set of 12 and are on sale for $17.99. (Originally $39.99)
Slime Eggs combine your kids' love of slime with your love of not having to make slime. This is a pack of 3 prefilled slime eggs that also have toys inside. Sounds gross to me, so no doubt my kids will love them. And they're only $9.99.
These Mini Squishies animals make great stress relievers for kids of all ages. This set of 16 squishy animals (3 come in prefilled eggs) is on sale for $9.29 (originally $13.19) and includes a free wristband.
This Unicorn Eggs set includes 24 pre-filled eggs with 4 unicorn squishies, 4 temporary tattoos, 4 stampers, 4 rubber rings, 4 rubber bracelets, and 4 unicorn keychains. And they're on sale for $10.95. (Originally $14.95)
These Building Bricks Eggs come in a pack of 6, prefilled with different building bricks for building different vehicles. Get this set for $15.55.
This set of Wind-Up Toy Eggs comes with 12 prefilled eggs that will take you back to the days when we had to entertain ourselves without Wi-Fi. And they're only $12.99.
This Hatchimals CollEGGtibles set comes with 12 eggs that can "hatch" when held in the warmth of a child's hand. My kids are obsessed with these. They're on sale for $15.49. (Originally $19.99)
If your kids love the idea of eggs hatching, these Hatching Unicorn Eggs are perfect. This set of 2 is on sale right now for only $6.97. (Originally $12.00.)
Hatching Dinosaur Eggs
This post started with dino eggs, and we're closing it with Hatching Dinosaur Eggs. Because dinosaurs are the coolest and loved by kids everywhere. Get this set of 2 for $12.99.
We hope you and yours have a great holiday and that these prefilled eggs save you some much-needed time and energy. And if your kids see the packages? Oh well, it's 2019, of course the Easter bunny uses Amazon.
We may earn fees from purchases made via links on this page and affiliated sites. All opinions are our own.
This article was originally published on