When The Heck Did Easter Become The New Christmas?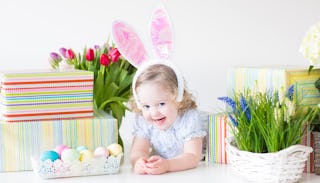 Record spending shows parents are treating Easter like Spring Christmas
Easter is this Sunday, and when most of us were kids, that meant getting a chocolate bunny and maybe one of those carrot-shaped bags of stale, orange jelly beans. Now, it's 2016, and all holiday hell has broken loose. People are buying bikes and video games, decking their halls with handmade Easter egg garlands, and emptying their wallets at Easter sales. It kind of makes you wonder — when the heck did Easter become the new Christmas?
According to the National Retail Federation (NRF), Easter sales are poised to hit a new record high this year at $17.3 billion. An annual Easter Spending Survey conducted by Prosper Insights and Analytics shows consumers will spend about $2.4 billion on candy and another $2 billion on gifts. The rest of the money will go to clothing, decorations, other food items, and — of course, flowers. Altogether, those celebrating the holiday plan to spend around $146 per person.
A quick glance around the internet seems to confirm this new trend. Target has a feature on their website where you can "build your own Easter basket." When you click on it, the first four rows of items that pop up are exclusively toys, and not cheap ones either. In fact, the first row contains a $52 Paw Patrol toy, a $40 Zootopia set, and an almost $20 Barbie doll.
On Pinterest, you can find dozens of tutorials on making teacher gifts, elaborate decorations, appetizers for Easter parties, and even photos that show off people's "Easter trees" — actual full-sized Christmas trees decorated to look like springtime threw up on them.
What happened, America? Easter used to be the simple holiday; the one you barely even had to acknowledge if you weren't celebrating it for religious reasons. Now, it's yet another day of the year we're expected to shower our kids with mountains of plastic crap they don't need and organize a full day of meals, gatherings, and activities.
Obviously, people can spend their money on whatever they want, but how far are we going to take this? I'm getting heartburn just thinking about next Monday when my kid comes home from school talking about how the Easter bunny rolled up in his carrot sleigh pulled by eight baby chicks to leave a swing set, a new Xbox, and a few actual golden geese eggs under little Sophia's Easter tree.
If transforming Easter into a Spring Christmas is your family's thing, have at it. As for my family, well, let's just say they think I'm fancy if I shell out for the Godiva bunnies and a dollar section coloring book — and that's exactly how I intend to keep it.
This article was originally published on