Easy Weeknight Trader Joe's Recipes For Exhausted And Hungry Moms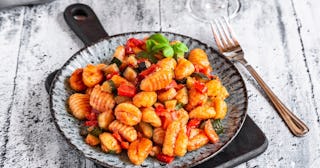 Getty Images
For a mom who will gleefully spend over an hour photographing a toddler and fluffy Goldendoodle together, I have zero chill when it comes to cooking — and less when it comes to grocery shopping. So much so that I lose my patience exactly at the 30-minute mark of cooking dinner. Especially if it's during the week and I've just come home from work. Which is why I was ecstatic when a Trader Joe's set its sights on my neighborhood and opened literally behind my building.
Now, at any given time, you can find my freezer filled to the brim with fresh roasted and frozen vegetables, golden and delicious sweet potato gnocchi, and creamy mushroom risotto mere minutes away from the dinner table. Paired with some fresh ingredients and pantry staples, easy Trader Joe's recipes have given me my weeknights back. Plus, now I have more time to play with my toddler (read: stop her from coloring our walls, furniture, and the aforementioned dog).
Best of all, quick Trader Joe's dinners turn into tasty toddler or kid school lunches for the next day. So it's winner, winner, chicken poblano and ravioli dinner!
Ahead, easy and yummy Trader Joe's dinners you can pop out in 30 minutes or less.
1. Creamy Chicken & Poblano Ravioli
Coming in at only $3.69, these delicious chicken and poblano ravioli can be piping hot on a plate in a matter of six minutes. Yes, you read that right. Sprinkle with some parmesan and add a side of Trader Joe's roasted brussels sprouts for a filling and appetizing mid-week meal.
2. Outside-In Stuffed Gnocchi
Run, don't walk, to your nearest TJs and grab as many of these Outside-In marinara and mozzarella cheese-stuffed gnocchi as you can. At my local store, they sell out nearly as soon as they're stocked. And why wouldn't they be? Each heavenly morsel is stuffed with all the sauce and cheese that you would typically spoon on top. At $2.99 a bag, these are a steal and cook in about 10 minutes.
You know what else? Kids love them!
3. Salad, It's What's For Dinner
For those evenings when you're more peckish than hungry, a simple Greek salad with salty and tangy feta cheese will do the trick. Add some Trader Joe's lemon grilled chicken breast for extra protein. Pack an extra serving for a crisp and light lunch at work the next day.
4. Pan-fried Quinoa Cowboy Veggie Burger
If you feel like having a burger but don't feel like cooking said burger, may I suggest a grilled and seasoned to perfection veggie burger from Trader Joe's. Made with fresh and savory ingredients like quinoa, black beans, corn, and red peppers, this veggie delight will whet that appetite when served on a brioche bun and paired with some corn salsa. Oh, and a pack of four burgers will set you back only $3.69.
5. Crêpe Wafer Cookies With Cocoa Almond Drizzle And Fresh Fruit
Why should your savory taste buds have all the fun? Satisfy your sweet tooth with a dessert for dinner. Enter: Crêpe Wafer Cookies with cocoa almond drizzle and fresh bananas or berries. Live a little and add some creamy Trader Joe's whipped cream for a complete meal. For $2.49 a box you may even share some with the rest of the family.
6. Spicy Salmon Burgers With Bloody Mary Salsa
If you're in the mood for a burger but don't feel like having red meat for dinner, then kindly see yourself to the frozen fish section at your nearest Trader Joe's. And while you're at it, stop by the condiments section and pick up the new no alcohol Bloody Mary Salsa. Pull the salmon burger, salsa, and veggies like avocado and sprouts together on a toasted brioche bun for a dinner for two that costs less than $15 and will take less than 15 minutes to pull together.
7. Spicy Vegan Super Burrito
This vegan burrito is a mélange of flavors and textures and can be found right in the frozen section. A mix of white and red quinoa, sweet potatoes, kale, onions, and a healthy heaping of red chili flakes wrapped in a toasted wheat tortilla. I don't know about a super burrito, but it's definitely super flavorful.
8. Pollo Asado Fajitas
Think it's impossible to get restaurant-quality sizzling chicken fajitas at home? Wrong! Mix TJ's Frozen Mélange à Trois bell peppers with cut strips of their Pollo Asado Autentico and bake on a sheet at 400 degrees for 35 minutes. While the chicken and peppers are roasting, toast up some tortillas and prepare sour cream, guacamole, and salsa. Enjoy.
9. Vegan Or Chicken Tikka Masala Burritos
This meal is proof that we can have nice things in life. Microwave Trader Joe's Chicken Tikka Masala dinner while you get a tortilla nice and toasty on the stove. You can pick up the Vegan Tikka Masala dinner if you'd like instead. Both options are $3.69. Layer rice, chicken, tikka sauce, peas, and yogurt, and your favorite TJ's chutney one-by-one before carefully wrapping the whole delectable concoction together into a burrito. Pro tip: replace the tortilla for garlic naan bread and send your taste buds into a frenzy.
10. Spring Rolls With Creamy Sesame Dressing
This is a really complicated meal to put together, so read these directions carefully.
1) Pick up TJ's vegetable or shrimp spring rolls. 2) Pick up TJ's Organic Toasted Sesame Salad Dressing. 3) Open packages, dip spring rolls into dressing. 4) Eat.
11. Organic Shells & White Cheddar Macaroni & Cheese
Who says you can't eat boxed mac and cheese as an adult? Join the kids for dinner with TJ's creamy, lick-the-spoon delicious organic shells and white cheddar mac and cheese. At only $1.39 a box, a meal for four will cost you a whopping $5.56!
12. Lemon Ricotta Ravioli Salad
Run, don't walk to your nearest Trader Joe's and pick up a package of these tangy cheesy bites of goodness. Add some arugula and shaved parmesan for extra bite and flavor. The prep is so easy for this dinner, you can have a meal on the table in less than 10 minutes.
13. Black Bean & Cheese Taquitos
Taco Tuesday just upped its game! For extra crunch AND an easy dinner, grab this $3.99 pack of vegetarian black bean taquitos from TJ's. If you're extra lazy, toast these bad boys in the oven and dip them straight in a Trader Joe's Chipotle Salsa jar.
14. Mediterranean Nachos
On an evening when lighter fare will do the trick, try this Trader Joe's "recipe" for Mediterranean nachos. Just combine TJ's Sea Salt Pita Chips, diced cherry tomatoes, cucumbers, and onions and sprinkle liberally with crumbled feta cheese for added tang. Et voilá!
15. Mac and Cheese Bites
What's better than mac and cheese after a long day at work or school? Fried mac and cheese balls! These creamy and crunchy bites of goodness are a blend of Cheddar, Havarti, Swiss, and Gouda cheese and at only $3.99, you're definitely walking out with at least four boxes.
16. Old Fashioned Potato Salad Done Three Ways
Dress up and flavor this $4.99 pack of TJ'S Old Fashioned Potato Salad three ways for three completely different flavors and cravings. Add TJ's Mexican Style Roasted Corn and Carne Asada for a south of the border flavor. Add Harissa and turkey bacon for a smokey Middle Eastern flavor. And go Greek with some kalamata olives, crumbled feta cheese, cherry tomatoes, and onions for a Greek salad flavor. Any way you have it, it's bound to be creamy and delicious.
17. Sloppy Joe Sliders
In the immortal words of Saturday Night Live's Adam Sandler: "Sloppy joe, slop, sloppy joe!" Grab a pack of TJ's Turkey Bolognese Sauce and fluffy Aloha rolls for this mid-week delight. Olive oil, a diced bell pepper, and some ketchup round out your ingredient list for tangy sloppy joe sliders that'll have everyone asking for seconds.
18. Pumpkin Chocolate Chunk Oatmeal Cookies For Dinner
Every once in a while you just don't feel like having a full meal and what you really want is an indulgent treat that doesn't take a whole lot of effort to make. Enter: Trader Joe's Pumpkin Chocolate Chunk Oatmeal Cookie Mix! A stick of salted butter and a large egg is all you need to turn this $3.99 pack into a tray of piping hot cookies. Best part: It only takes five minutes to prep and 15 minutes to bake.
19. Spizzico di Pizza aka Pizza Bites
Turn your home into a pizzeria with these mini pizza bites! Per TJs, "Spizzico di Pizza" means "Little Bites of Pizza," and that's exactly what these crunchy and cheesy pizzas are. Add a side of arugula and shaved parmesan salad for a filling meal for all.
20. Chilaquiles Rojo
Indulge in breakfast for dinner with this crunchy and savory Chilaquiles from TJs. A traditional Mexican breakfast dish made up of fried corn tortillas, tangy tomato, and chili sauce topped with melted cheese, the possibilities are endless with this crunchy meal. Add chicken or beans, a fried egg, sour cream, and verde sauce for an Instagram-worthy and filling meal in (checks watch) five minutes! A 16-ounce bag will only set you back $4.99! A breakfast and a deal.
21. Pumpkin Bisque
When chilly fall evenings roll around, the only thing on anyone's mind are warm soups that feed the soul. Indulge in TJ's creamy and rich Pumpkin Bisque and toasted focaccia bread for a super hearty meal. At only $3.99 per each 25-ounce jar, it's a steal.
22. Hot Dogs All the Way
Taco Tuesdays have become a mainstay for easy weeknight dinners, but may we also suggest adding Hot Dog Family Night into the repertoire? Toast up some buns, grill or boil up some delicious TJ chicken, beef, or soy dogs, and pick up some yummy toppings like Trader Joe's Honey Pale Ale mustard, relish, and chopped onions for a dog with all the fixings.
23. Savory Egg Sandwiches
Who says egg sandwiches are just for breakfast? Toasted English muffins and TJ's Egg Frittata make a yummy combo that are ridiculously easy to prep. Add tomato slices, your favorite leafy green, and a sauce with zest to round out the flavors.
24. Pizza, Pizza
So, it's day 1,485 of quarantine and you can't be bothered to cook one more meal. But you're also hungry, craving yummy comfort food, and don't want to spend money on delivery. We get it. Luckily, in 20 minutes and only $5.99 you can have a crispy and cheesy Trader Joe's organic cheese and tomato pizza on the dinner table.
25. Meatless Beef Burgers
Going meatless is all the rage these days as plant-based options offer options to load up on protein without eating meat. Luckily, Trader Joe's is answering the demand with their Protein Patties. And just as advertised, they make for a delicious weeknight burger dinner with a side of their sweet potato fries, tater tots, or garlic fries. However you eat it, don't forget to pick up TJ's brioche buns!
26. Cold and Savory Udon Salad
You don't have to do a thing except crack open this yummy tub of cold udon noodles mixed with carrot matchsticks, green and red cabbage, red bell peppers, and chopped roasted peanuts. The green onions and fresh cilantro complete the flavor profile that will send you straight to heaven.
27. Mandarin Chicken Orange
You don't go to Paris and not marvel at the Eiffel Tower; you don't go to China without walking the Great Wall, and you don't go to Trader Joe's without buying a bag of their infamous Mandarin Chicken Orange. Quite literally, their most popular product, TJs can't seem to replenish their supply before it quickly sells out again. See what the fuss is all about and try this tasty and tangy dish out for a quick dinner. Serve with TJs fried rice for extra yum.
28. Turkeyless Protein Burgers
What's better than a nice juicy turkey burger? A turkeyless protein patty jam-packed with vegetables and good-for-you nutrients that come with a whopping 23 grams of protein per serving. Pair with your favorite toasted buns, sliced tomatoes, onions, and any other creamy spread you're into.
29. Spicy Pumpkin Samosas
When is the perfect time for samosas? Uh, that question should be when is it NOT the perfect time for this flaky and flavorful South Asian appetizer? And with Trader Joe's seasonal pumpkin-stuffed samosas hitting the shelves as soon as the leaves start turning brown, this treat should be part of your holiday appetizer spread or snack in front of Sunday football on TV.
30. Broccoli Cheddar Soup
Soup is the name of the game. As soon as the weather dips below 60 degrees, nothing feels as cozy and comforting as a creamy bowl of soup and a toasty, crusty hunk of bread to dip in it. Luckily, at only $4.49 for a 20 oz. container, you can share or have the whole tub of delicious goodness all to yourself.
Bon appétit!
31. Shakshuka
Grab a skillet, pour in TJ's Spicy Chunky Tomato & Pepper Pasta Sauce, and get ready to make a meal your family won't soon forget. All that stands between you and a mean shakshuka are a few eggs, some fresh cilantro, and cheese.
32. Caramelized Onion Grilled Cheese Sandwiches
Have you ever seen such a beautiful grilled cheese? Bonus: It's loaded with flavor, thanks to TJ's Cheddar Cheese with Caramelized Onions.
33. Beef Pho Soup
What if we told you that you could whip up tasty bowls of beef pho in mere minutes? It's true. TJ's delightfully easy bowl-in-a-box version is destined to become a weeknight favorite.
34. Carne Asada with Pepper and Corn Salad
We know it sounds a little fancy, but we swear it only takes as long to make as box macaroni. All you need to complete this meal is steak and vegetables. And here's the bonus: The carne asada already comes pre-marinated! Make sure you also have your bag of fire-roasted bell peppers and onion, half a bag of roasted corn, feta cheese, and fresh parsley. These are literally five items, which is great and makes for a super-quick Trader Joe's trip.
Start by grilling your meat over a medium-high fire and give them about five minutes on each side. Then, to make your pepper and corn salad, break out your big saute pan. Put one tablespoon of olive oil into the pan. When it's hot, add your bag of peppers and onions, along with half of the roasted corn. Stir this for about 10 minutes. While that's cooking, chop up some parsley and feta cheese and sprinkle it into the peppers. Voila!
35. Butternut Squash Soup With Spicy Chakri
You can't get much easier than this! All you need to do is heat up some TJ's Butternut Squash Soup in a pot on the stove. Once it is heated, you can ladle it into a bowl and sprinkle TJ's Spice Chakri Mix on top for a crunchy, textural kick. Could this be any more perfect for a cold day?!
36. Lemon Chicken Orzo Soup
This meal takes ten minutes, Mama, and no longer if you follow our recipe. Grab Shred Trader Joe's pre-cooked lemon chicken and mix it with some chicken stock. Then add two tubs of Mediterranean Orzo Salad and two cartons of chicken broth. Once it comes to a boil, squeeze in some lemon, and then voila. Time to chow down!
37. Penne Arrabbiata with Sausage & Spinach
Who says fancy meals have to take all day? First, remove the casing from your Trader Joe's sausages. After you cook the sausage, mix it in a skillet of penne arrabbiata. When that's done, pour it on a plate of spinach. Your kiddos will get a healthy dose of fresh greens and protein.
38. Turkey Bolognese and Marinated Vegetable Rice Bowl
If you loved the Turkey Bolognese sloppy joes from number 17, you'll love this rice bowl creation. You will need TJ's Organic Brown Rice and "Just Sauce" Turkey Bolognese and Misto Alla Griglia Vegetables. First heat up the Bolognese and mixed vegetables. Then put them in a skillet along with the Turkey Bolognese sauce. Make sure your rice is defrosted, and when everything is cooked, which should take about 20 to 25 minutes, you'll be all set.
39. Shrimp Burger Salad
You've done a thousand burgers. A million salads. But have you ever done a shrimp burger salad? When you want to shake up your weekly menu without causing a revolt in your household, you need this dynamic recipe. For starters, each of the four shrimp "burgers" in a TJs box contains an impressive 70 percent farm-raised Pacific White Shrimp (the remaining percentage goes to pollock, rice flour, sunflower oil, and seasonings). But also, it's just another excuse to break out a TJs favorite: the Carrot Ginger Miso Dressing.
40. Honey Roasted Pumpkin Ravioli
Bring on the glorious fall flavors! There are many, many reasons to love autumn, and this super-easy honey-roasted pumpkin ravioli is one of them. A mixture of roasted pumpkin and sweet potato laced with honey, brown sugar, and molasses make this dish a dream come true. We recommend pairing with TJ's Autumnal Harvest Pasta Sauce or, if you're feeling decadent, a browned butter sauce.