Eating Disorders Among Teens Have Seen A Sharp Increase During The Pandemic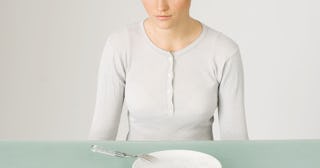 Spohn Matthieu/Getty
The pandemic has made us anxious. It has made us fearful. It has made us vulnerable. For many of us, the pandemic has brought on insurmountable pain. Not just in the form of COVID-related illness or death, but in many other ways. The psychological effects of widespread panic have not spared our youth. They have been confined to smaller spaces, cut off from their friends, and they have lost control of many aspects of their lives. Experts say that these factors have contributed to a marked increase in teenage eating disorders in the last year.
Jennifer Solar, senior director of communications for the National Eating Disorder Association, confirmed that their helpline saw a 54.1% increase in calls from April 2020 – March 2021
"Eating disorders are very complex mental and physical health illnesses including psychological, biological and sociocultural factors. As a registered dietitian I have seen disordered eating behaviors increase in many teens I work with due to several factors but in particular the loss of control and increase in uncertainty in their world, which manifests itself in the things they have control over — food and exercise or movement," Jamie Daugherty, PhD, RDN, CSSD and assistant professor at Fontbonne University, told Scary Mommy.
Teens saw an abrupt change to their routines during the spring of 2020. Suddenly there were no more sports or debate teams. Part-time jobs and other extracurricular activities just stopped, with little or no warning. The lives that our teens were used to living were unequivocally altered and they had no idea if, or when, things would ever go back to normal. For some teens, that meant a feeling of being totally out of control. They took that control back in the form of eating disorders.
Dr. Marya Strand, chief medical officer at SSM Health Cardinal Glennon Children's Hospital in St. Louis, said that she has seen an increase in behavioral issues and a sharp increase in eating disorders. She doesn't believe that we have reached a peak as the curve for eating disorders; depression and anxiety continue to grow.
When asked why the shift, Strand told Scary Mommy that there are several factors.
"Social isolation, stress, anxiety and fear, loss of control, changes in family dynamics or family resources, interruptions of support services; so many things impact the emotional response of kids and adolescents. And their current supports of friends and school have been missing, leaving kids feeling like they are adrift. Sometimes there are limited things a child or teen can control, and some kids choose to control what they put in their body."
Strand said that it is important to recognize that eating disorder patients come from all racial and ethnic backgrounds. Eating disorders do not discriminate. According to the NEDA, it has been a common misconception that eating disorders are primarily found in straight, young, white females. But in reality, eating disorders affect individuals across all socioeconomic and gender platforms. Due to the fact that there are so many misconceptions about eating disorders, and those who have them, they can be undiagnosed or misdiagnosed. "Understanding that eating disorders don't discriminate is critical to making sure everyone has access to help and support. When it comes to identity and eating disorders, one's experience should be understood within the broader cultural context of oppression," the NEDA website states.
Sixteen-year-old Chloe Melton told NBC news that her eating disorder manifested during lockdown. She used her ability to control the situation by limiting foods and fasting. This lead to bradycardia, or an extremely low heart rate, in addition to weight loss.
Melton's eating disorder lead to a six-week inpatient stay in a treatment facility where she was diagnosed with anorexia. "You have to wake up and say, 'I'm going to make this choice' to be healthy every single day," she said. "That's why it's so hard. And that's why so many people relapse." Melton is still under the care of physicians and therapists.
Strand said that the pandemic has shed light on behavioral and emotional issues for kids and teens and has made it a focus in many communities. She noted that it would take community efforts to help our youth to cope. "Care for these kids will need to be considered from a community or regional standpoint to make sure all of the kids have the resources they need for their emotional needs and care."
The Polaris Teen Center offers the following statistics:
4% of adolescents and teens, ages 13 to 18, suffer from some type of disordered eating.
Teens with anorexia are 50% more likely to develop bulimia or a binge-eating disorder.
50% of teens with anorexia will develop bulimia or another binge-eating disorder.
90% of teens with anorexia are female.
Young women with anorexia are 12 times more likely to die than those without an eating disorder.
As many as 50% of teenage girls and 30% of teenage boys participate in some type of weight control.
Of those teens with an eating disorder, 50% are also diagnosed with depression.
69% of girls aged 10 to 18 admit that they look to models and celebrities as the ideal body shape.
By the time the turn 17, 79% of girls have been on some sort of diet or restricted eating plan.
Eating disorders affect males as well-10 to 15% of teenage boys have disordered eating habits.
While our cities are beginning to lesson COVID-19 restrictions and things are getting back to normal, Strand is hopeful that things will begin to level out. She said that it would be interesting to see how kids react to the re-opening of society. She is uncertain if these behavioral health issues will decrease over time, or if the pandemic simply served as a vehicle to unmask concerns that will remain as kids grow.