10 Educational Apps For Preschoolers, So You Can (Hopefully) Poop In Peace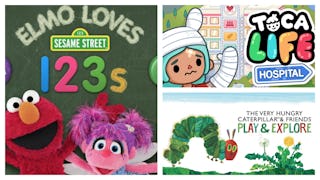 Sesame Workshop and Amazon.com
For the (many) parents out there who allow their kids to have screen time, finding apps that are fun, engaging, age-appropriate, and somewhat educational can be a real feat.
Generally, you're going to get more impact from apps you have to pay for, but many of them are less than $5, a small price to pay if it affords you some time to poop alone while also educating your kid. Because many of these apps are interactive and have multiple games, which reduces the likelihood that they will be bored in five minutes. Finding the right apps for your kids involves a lot of trial and error, and often we rely on recommendations from friends and other parents.
Here's what we've got:
1. Endless Series (Free)
A fun series of interactive apps that introduce littles to the alphabet, words, and numbers. In Endless Alphabet, kids spell words and learn vocabulary, while in Endless Reader, they take those words and use them to create sentences. Both have individual letter animations that also make the phonetic sounds of the letters in the words. Endless Numbers follows a similar pattern; there are 100 numbers and kids can practice counting, number sequences, quantity, and simple equations. They have a cast of adorable monsters that cross all of their platforms, which makes it fun for kids to see characters they recognize.
2. Peppa Pig: Paintbox (Free)
For little fans of Peppa Pig, this coloring app is a must. You can play as either Peppa or her little brother George, and at the end, you can display your creations during a show at Peppa's school. With almost 50 stickers, Peppa backgrounds, six drawing tools and three character coloring pages, this is sure to be fun for hours.
3. Daniel Tiger Grr-ific Feelings ($2.99)
If you've ever watched Daniel Tiger's Neighborhood then you know that much of the show's premise teaches kids to recognize and articulate their feelings. In this app, there are dozens of games for kids to play and learn about their feelings. Kids can express their feelings through music, learn about feelings with Trolley in "The Trolley Game," make faces to express their feelings with the camera, and draw their feelings. And many of their favorite songs about feelings from the show are there as well.
4. Fisher Price Laugh & Learn (Free)
Specifically designed for the littlest folks, the Laugh & Learn series of apps is geared more toward young toddlers. They can play with the Fisher Price Puppy and Monkey and go to the farm, learn sounds, letters, and numbers among other things.
5. The Very Hungry Caterpillar & Friends: Play & Explore (Free)
This app is a must for fans of Eric Carle's books. In the app, you can play interactive games with The Very Hungry Caterpillar, Mister Seahorse, and Brown Bear. There are puzzles and 3D games, all including Carle's classic artwork.
6. Elmo Loves 123s ($4.99)
Who doesn't love Elmo? In this interactive app, kids can learn their numbers 1–20 with the help of Elmo and his Sesame Street pals. To unlock fun videos and activities, kids must first trace the number they've chosen to learn about. There is also an app called Elmo Loves ABCs which follows the same premise.
7. Play PBS Kids Games (Free)
If your kids are fans of the shows on PBS, this app is a must. Play games with characters from Daniel Tiger's Neighborhood, Wild Kratts, Super Why! and more. Made for kids ages 2 to 8, there is definitely something for everyone.
8. Kids Doodle (Free)
This is one of the highest-rated kids drawing apps. Kids can paint either on a canvas or a photo with bright colors and 24 unique brush types, including neon, rainbow, and crayon.
9. My Dog Bella (Free)
This is especially fun for little folks who love dogs and puppies. In the app, kids can build and decorate Bella's doghouse, dress her up at the doggie spa, and treat her when she gets ill. There are fun little interactive games for coins and points.
10. Toca Boca (most apps $2.99)
This is a company rather than a specific app, because they have so many fun apps, it's hard to choose just one or two to feature! Kids can perform science experiments, be hair stylists, cook in the kitchen, be animal doctors, and take care of horses to name a few.
All of these apps are available for iTunes (which includes the iPod, iPhone, and iPad) and for Android through the Google Play Store. Hopefully, you'll find one that allows you to use the bathroom in peace.