Bagel Shop Employee Captures Happy Dogs About To Get Their Carb On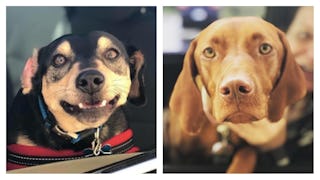 Image via Instagram/ ebdogs4096
Bagel shop employee Instagrams dogs patiently waiting for bagels
Prepare yourself for an overload of dogs, bagels, and general adorableness. Natasha Jones, an Einstein's Bagels server, started an Instagram account capturing all the pups that come by her drive-through window — and each and every one of them look READY to get their nosh on (because, duh).
"My favorite part of taking these pictures is being able to look back at them," Jones told Huffington Post. "The expression in their eyes can tell you a lot about them and it's fun wondering what they are thinking."
I'm no expert, but it seems abundantly clear from the pictures that the dogs have exactly one thing on their minds.
A few wait patiently for their treats.
Others are a little less subtle.
Some just dive right in.
There's also plenty of tongue wagging and licking to go around.
And just look at the anticipation of these very good pups.
Can you really blame them? An Einstein's Bagel rep told Entrepreneur that pups are treated to "fully baked, pet-friendly treats made with wheat flour, carob chips, canola oil, eggs, vanilla, and tail-wagging happiness." Plus, if you go to Jones's drive-through window in Melbourne, Florida, she'll give your canine BFF a bagel on the house (not that you needed more incentive to go on your morning bagel/coffee run).
The server has been sharing pictures of her doggie customers with family and friends since she started her job back in November, but only recently decided to publish her snapshots publicly. Her first post on Imgur racked up more than 200,000 views, and her newly-minted Instagram account has more than 1,000 followers.
The moral of this story is that the world needs more pictures of dogs, bagels, and dogs waiting to eat bagels STAT.
This article was originally published on