'El Camino' Is The Dark Continuation 'Breaking Bad' Fans Need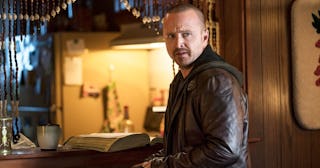 Ben Rothstein/Netflix
Breaking Bad is one of the best shows ever made. End of story. It's a fact. But I must admit, going into El Camino: A Breaking Bad Movie (which recently released on Netflix), I tried to tamp down my expectations because let's be real… the majority of the truly great characters were killed off during the show: DEA agent Hank Schrader, the paternal hit man Mike Ehrmantraut, the brilliant and slightly psychotic owner of Los Pollos Hermanos, Gus Fring, and even the show's main character (and world's best meth cook) Walter White.
And I'm sorry, this is not a spoiler. Yes… Walter is dead. I'm sorry if you didn't hear. I know we were all holding our breath before the release of El Camino that Walter might have beat cancer and several gunshots, but then Vince Gilligan went ahead and crushed our dreams in an interview right before the release of the movie letting us all know he's dead.
Anyway, let's be real, how much can we all invest in a two-hour narrative that might very well only revolve around Jesse Pinkman and his meth-peddling buddies Skinny Pete and Badger? Well… I have watched it, and I will say that what it does best is give Jesse Pinkman closure, which is huge. Like most fans, I wanted to know Jesse's fate the moment he was liberated from that neo-Nazi ranch in the last episode.
The movie picks up exactly where the show left off, which is so satisfying. And just because so many great characters are dead, doesn't necessarily mean they don't make an appearance via flashbacks. I will admit, however, that El Camino doesn't have the narrative speed of Breaking Bad. But what it lacks in pace, it makes up for with the dark oddity of unexpected situations that really can only come from the mind of a great writer like Vince Gilligan.
Characters that seemed almost forgettable in the show suddenly shine brightly in unexpected ways, and true to form, not everyone is who they originally appeared to be. Aaron Paul slides right back into the mid 2000's sagging jeans of Jesse Pinkman as though he'd never taken them off, and although we don't get to spend time with all the best Breaking Bad characters, you get enough to feel satisfied.
Naturally, if you don't want to take my opinion, I understand. Anything with this kind of hype is going to generate mixed reviews, but on the whole they have been very positive. Rolling Stone TV reviewer Alan Sepinwall said that Gilligan is "…operating near the peak of his powers" with El Camino. However, Willa Paskin over at Slate said that the El Camino lacks in the complexity of the original show, and that "the movie spinoff ties up loose ends but doesn't answer the lingering question: Who are we rooting for?"
With all that in mind, I'd like to say that El Camino is not as groundbreaking as Breaking Bad. It's just not. But honestly, how could it be? A show that amazing only comes along every decade or so. Still, it is so very satisfying. If you loved Breaking Bad, and the spin off Better Call Saul, you will enjoy El Camino. I assure you.
This article was originally published on