A Mom And Dad Died Shielding Their Infant At El Paso Mass Shooting
by Christina Marfice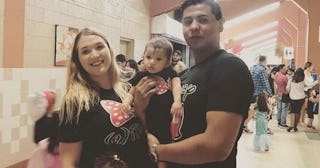 GoFundMe
Heartbreaking stories of the people killed in the El Paso shooting include a couple who died to save their son
Andre and Jordan Anchondo needed birthday party supplies for their daughter who was turning 6, so after they dropped her off at cheerleading practice, they packed their two-month-old infant son, Paul, into the car and joined hundreds of back-to-school shoppers at a Walmart in El Paso, Texas. It was the last thing they would ever do.
Gunfire rang out at that Walmart, where Patrick Crusius, a white supremacist, had traveled, intending to fire on as many Hispanic people as he could. He killed 20. Among them were Jordan, who died shielding Paul from the gunfire, and Andre, who died trying to shield Jordan. Paul survived with only broken fingers from when his mother's body fell on top of him. He is now with family, along with Jordan's two daughters, ages one and six.
"How do parents go school shopping and then die shielding their baby from bullets?" Jordan's aunt, Elizabeth Terry, asked when interviewed by The Washington Post.
When they died, Jordan and Andre had just celebrated their one-year wedding anniversary. Paul had just been born. Andre had built a home for them and their family, including Jordan's daughters from previous relationships. He had started his own business. His family credits Jordan for pulling him out of a rut and getting him excited about life.
"She was his support system," Andre's brother Tito said. "When he met Jordan, it gave him more reason to get on track with his life. He got his life in order."
The shooter had posted a manifesto online that attacked Latino immigrants and ranted about a "Hispanic invasion." He's being charged with domestic terrorism and is expected to face the death penalty in Texas.
"This Anglo man came here to kill Hispanics," El Paso County Sheriff Richard Wiles said in a statement. "I'm outraged and you should be too. This entire nation should be outraged. In this day and age, with all the serious issues we face, we are still confronted with people who will kill another for the sole reason of the color of their skin."
There's a GoFundMe collecting donations for Andre and Jordan's family and the future of their kids. You can donate here.
The shooting in El Paso is one of two public mass shootings that happened in just 13 hours over the weekend. The other happened in Dayton, Ohio, where a man dressed in body armor and armed with multiple guns opened fire on crowds in an entertainment district. He managed to kill nine people in just 30 seconds, before police shot and killed him. These two shootings make mass shooting numbers 250 and 251 in the U.S. this year, where lawmakers still refuse to do anything to protect us from the gun violence that occurs here daily.