El Paso Shooting Victims Are Avoiding Medical Help Due To Immigration Status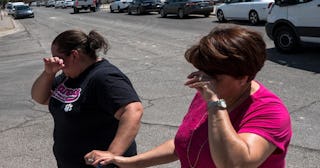 JOEL ANGEL JUAREZ/AFP/Getty Images
Some El Paso shooting victims are not seeking help due to their fear of being deported
Twenty people were killed and more than two dozen were injured in a mass shooting at an El Paso shopping center yesterday afternoon. Some of the victims who were injured but still alive have declined seeking medical support due to their fear over their immigration status.
They are also not going to reunification centers to be reunited with concerned family members because of their fear of being deported.
"This is a concern," Juliette Kayyem, a former assistant secretary of the Homeland Security Department, told CNN. "It's clear there's people who are not unifying with their family and that there are people they're worried are injured that did not go to hospitals likely because of their immigration status."
While it's utterly heartbreaking that injured, terrified victims who have just endured a life-threatening mass shooting would feel unsafe seeking help and shelter, it's not like their fears are totally unfounded.
The shooter is a 21-year-old white man from Dallas, who drove nine hours to El Paso to specifically target immigrants in his shooting spree, according to police authorities. He also wrote a manifesto, as many of these white, domestic terrorists are wont to do, which strongly indicates this was a premeditated hate crime. El Paso authorities are looking to bring capital murder charges against him.
CNN is reporting that the FBI has opened a domestic terrorism investigation into the shooting that took 20 innocent lives and damaged even more. Local officials have reported that two hospitals have received at least 23 people. Two of those victims are in a "life-threatening predicament," according to Del Sol Medical Center Dr. Stephen Flaherty. Victims who arrived at the hospital range in age from 25 to 82. Two children with non-life-threatening injuries were taken to a local children's hospital. Several victims required emergency surgery.
The fact that there are likely more victims who are too afraid to seek help at a hospital because they're more worried ICE will be waiting to deport them when they get there is a true testament to America in its current state.
Hope Border Institute, a border refugee assistance fund, is offering to help any El Paso immigrants who may need medical care after the shooting. You can donate to their efforts here.
"This was a massacre," US Rep. Veronica Escobar says. "The numbers are shocking."