Zoo Lets You Name A Cockroach After Your Ex -- And Have It Fed To A Meerkat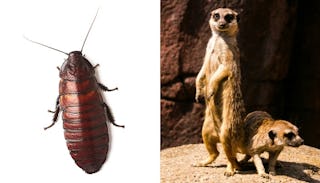 Image via Istock/Getty Images
This is the most satisfying cockroach encounter you'll ever have
Valentine's Day is rough when a certain someone(s) has ruined it for you in the past. Have no fear — the wonderful folks at the El Paso Zoo have a fun and wholesome way to get a tiny bit of secret revenge. Bonus? It helps animals! Well, and hurts insects.
The El Paso Zoo is offering the chance to name a cockroach after your ex and then, on Valentine's Day, watch a live feed on the zoo's Facebook page or site to see the gross little jerk get devoured by a meerkat. Seems like a satisfying way to spend this romantic Hallmark holiday.
The meerkat-focused event is called "Quit Bugging Me" and the names of the exes will be displayed around the meerkat exhibit and on social media beginning February 11. The zoo is billing it as "the perfect Valentine's Day gift" and honestly, we have to agree.
El Paso Zoo event coordinator Sarah Borrego tells CBS News "This is a fun way to get the community involved in our daily enrichment activities. The meerkats love to get cockroaches as a snack and what better way to celebrate Valentine's Day than by feeding them a cockroach named after your ex!"
People were like, really feeling the idea. Some thought it was too good for their nasty ex.
This person wondered if they could select a specific type of roach to make their ex's namesake.
Others got a little…dark. Although we can't say we haven't gone down that road a time or two ourselves.
The petty in ALL of us is marking our calendars to watch this live feed all day long. While eating chocolates, which is actually kind of gross, but whatever. We're still here for it.
The response has been so huge, in fact, that the zoo had to think up some other animals to feed these Ex Jr roaches to.
"We've had a TREMENDOUS response to our Quit Bugging Me event! ❤️ So much that we have decided to spread the love to some of our other animals here at the zoo! We'll keep you posted on feeding times next week!"
SEE? We're doing the Lord's work over here coming up with so many garbage exes that the zoo made it work. Bless.
Happily, El Paso isn't the only zoo giving the disgruntled people what they want this Valentine's Day. You can name a roach at the Bronx Zoo or if you're across the pond, the Helmsley Conservation Center in Kent has your petty back.
This article was originally published on