Adorable Couple's 68th Anniversary Photos Are Total Relationship Goals
by Mike Julianelle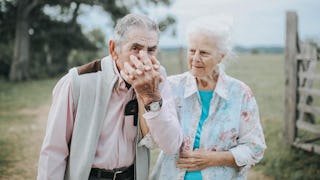 Image via Paige Franklin Photography
Their granddaughter arranged a photo shoot to help them celebrate for the amazing couple
68 years is a long time to be alive, let alone to be married. But in a series of photos taken on the occasion of their wedding anniversary, it hardly seems like any time has passed at all for this smitten couple.
Photographer Paige Franklin took to Facebook to share her experience photographing Ollie and Donald King at the behest of their granddaughter. She could't help but gush.
"There have been certain times in my career that I sat back after a session and thought WOW, I really really really love my job. Tonight was definitely one of those nights," the photographer wrote in her Facebook post sharing the photos.
She and Ashley Owen, Ollie and Donald's 24-year-old granddaughter, who describes herself as "obsessed" with their love story, spoke with ABC News about why she arranged the photo shoot.
"I'm obsessed with them and I think they're super adorable, even though I'm biased," Owen explained. "I really did it just for myself because I'm obsessed with them and I thought it would be great."
One glance at the adorable couple playfully engaging in the photo session and it's clear her obsession is well-placed. I mean OMG with these two!
Ashley admitted getting them to submit to the photos wasn't easy. "They're super humble and don't like to be photographed a lot. They don't want to show off at all," said Owen.
Something tells me, photographer around or not, these two kind of can't help showing off!
My parents have been married for over 50 years and I thought that was impressive. It is, of course – I'm still hoping I make it to my tenth anniversary this September! – but my folks ain't got nothing on Ollie and Donald.
During their session, Paige asked Donald a question.
"I asked him to tell me the one thing he was most proud of her for (It's a little trick I do in couples sessions) and he looked at me for a minute and looked at her, and he said "there really isn't just one thing. She's just amazing all around…"
Okay, Donald. At a certain point you're just making the rest of us look bad!
This article was originally published on