Teen Points Out Hypocrisy After Yearbook Rejects Her Photo For Being 'Inappropriate'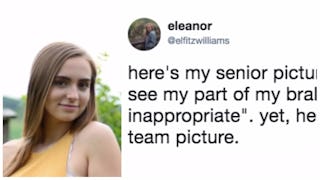 Image via Twitter
After her photo was rejected for being "inappropriate," one teen perfectly nails her school's double standard
Another day, another archaic school dress code double standard. Except this time, the student in question perfectly nails her school's hypocrisy.
Eleanor Fitzwilliams, a senior in high school who was recently told her senior picture was "inappropriate" by school officials, summed up the entire situation in one perfect tweet.
Hmm. Well, when you put it like that it's hard not to scratch one's head and wonder what's so "inappropriate" about a girl who is completely covered up, save for her "distracting" arms. Her tweet quickly went viral, with most people expressing their outrage on her behalf. Because yeah, while Speedos are a technically a "uniform," Fitzwilliams is hardly wearing anything scandalous.
When she brought the matter to the attention of school officials, they were adamant about sticking to their dress code. "I brought up the boys swim team but was told they didn't know what to tell me and I should bring it up with the athletic director," she tells Scary Mommy. She says she's hit a dead end when it comes to getting answers.
"The staff member who runs the yearbook and other administrators deemed my picture inappropriate because it violates a small section of the dress code about undergarments," she says. "My rebuttal to this is that the speedos can also be considered undergarments, yet they serve a different function to be worn for the swim teams uniform. My bralette is technically an undergarment but for me, it served the purpose of covering my side where my top didn't."
BINGO. Honestly, is it really worth the time and energy for the administration to push so hard against this girl and a peek of her bralette? Really? There's not even actual logic behind their stance, it seems like all they have to offer is a "because I said so, that's why" non-solution to the situation.
Fitzwilliams' tweet quickly went viral, with many people voicing their support and even sharing their own similar experiences.
https://twitter.com/jetpack/status/913628221069029376https://twitter.com/jetpack/status/913221257994399744
https://twitter.com/jetpack/status/913110940329156619
Even if school officials don't have her back, Fitzwilliams says she's "blown away" by the reaction to her tweet. "I never thought it would get this big but I'm so appreciative of all the support I'm getting," she says. "My peers at school are really proud of me and super supportive! Even people I don't know very well have reached out to me to say how cool they think this is."
What started out as a simple tweet has evolved into something greater, she says. Fitzwilliams says the amount of replies she's received is truly significant. "This has turned out to be more than just my picture not making my yearbook, but more about the sexualization of young people's bodies across the country."
This article was originally published on