This Is The Election Playlist Every HRC Voter Needs Today
by Liz Henry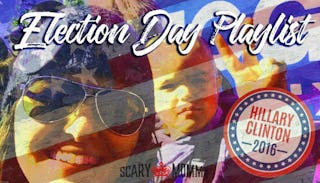 Finally. Election day is here.
Are you pumped?!
We're about to make history by electing the first woman president, Hillary Rodham Clinton. Today is the day pussy grabs back at the ballot box with a soundtrack. We put together 21 songs for our election day playlist to take you through your ball-busting, ballot-punching, history-making day, nasty women.
The Scary Mommy election day playlist starts off with, of course, Janet Jackson's "Nasty" and then moves through Peaches, Aretha Franklin, M.I.A., Beyoncé, The Dixie Chicks, Queen Latifah, Britney Spears, and more. Featuring 21 songs and over an hour's worth of fist-raising lady power, the playlist ends with an epic send-off from Lily Allen.
Enjoy, Scary Mommies. The future has arrived, and women rule it.
[free_ebook]
This article was originally published on