These Elementary School Kids Leading Walkouts Will Give You Hope For The Future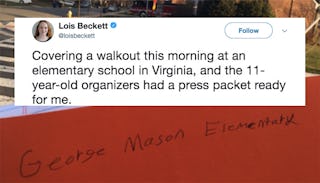 Image via Twitter/Lois Beckett
A pair of fifth grade students organized a walkout at their elementary school — and it's totally inspiring
More than 60 students walked out of an Alexandria, Virginia, elementary school where Naomi Wadler and Carter Anderson, both 11, helped organize a demonstration as part of today's National Walkout Day. The walkout and moments of silence observed by thousands of students across the country are meant to bring attention to our nationwide gun violence epidemic — and the right of children to be safe while at school.
Lois Beckett, a reporter for The Guardian, not only interviewed Wadler and Anderson, she attended their walkout and documented the event on Twitter. She shared that the students were more than prepared — they even had a "press packet" ready for her when she arrived.
The pair of fifth graders who helped organize the walkout at George Mason Elementary explained to Beckett the reasoning behind their activism. "That we want school safety," Anderson said. "So many people die, because our schools can't be safe."
Wadler shares that in the beginning, their principal wasn't "completely supportive," but after a few days of seeing the kids preparing for the walkout, he got on board. "I think me and Carter can understand, because nobody expects a bunch of ten and eleven year olds to stand up and start walking out of the school building," she said.
Anderson adds, "Also, in the class there's been some parents that felt that we're not old enough to know about it. Like, they think that just because we're fifth graders we don't know anything about what's happening."
And they would be wrong.
Wadler explained why their walkout would include an 18th minute of silence instead of the 17 minutes most other schools observed to remember the 17 people killed in the shooting at Marjory Stoneman Douglas High School last month. "We changed our 17 minutes to 18 minutes for the school shooting in Alabama, where Courtlin Arrington was killed. So we've added 18," she said.
It was important to Wadler to remember Arrington because African-American women, she said, "when they are shot and killed, or when they are killed in general, their names aren't remembered."
Anderson mentioned that he was "nervous" some kids would act out during the protest, but no one did. That might be because the pair worked to educate their peers on the right behavior for their protest by having two meetings on Saturdays to prepare. "We went over the expectations," says Wadler, "that this was not recess time. You're not doing this just because you want to get out of school. How we expect to be silent, how we're not gonna chant, because we want learning in school to go on as normal."
And all went off as planned.
The kids were careful to make sure that participating students knew not to hassle their peers who chose not to join them. Wadler told them, "…if anybody chooses not to participate, not to give them a hard time. Because I go by, you don't have to agree with people but you have to respect them."
Just like that, the kids are showing the way where so many adults before them have failed.
Their 18-minute protest, with students as young as first grade holding signs with messages about gun violence, inspired the parents who came to watch.
The mayor of Alexandria even came and a woman who watched the protest handed a shivering Wadler her gloves — and let her keep them.
Wadler has a message she hopes others will take away from their protest. "I hope adults in general will realize, if they haven't already, that this is a really big issue, and that innocent people have lost their lives, and that we should keep working harder and harder to make gun reform, to make school safety, a huge priority."