Elementary School Under Fire For Having Kids Play 'Runaway Slave' Game
by Thea Glassman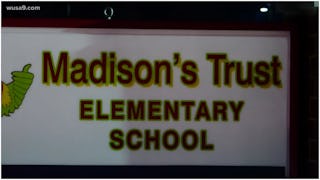 Image via WUSA9/YouTube
An elementary school had students play a runaway slave "game" for Black History Month
Today in repulsive news, an elementary school instructed students to play a game that involved them escaping through the Underground Railroad. Parents were understandably outraged, the NAACP was contacted, and the school's principal has since issued an apology.
Third, forth, and fifth graders at Madison's Trust Elementary School in Ashburn, Virginia participated in this "game" as a part of Black History Month, the Loudoun Times-Mirror reported. They divided up into six groups and were each instructed to overcome some sort of physical obstacle, including scootering between different stations and moving through hula hoops. So, yup, the teachers turned the concept of slaves escaping from horrendous, violent, inhumane circumstances into a kooky classroom activity.
The NAACP was contacted after a black third-grader returned home and told his parents: "I played a runaway slave on the Underground Railroad." Loudoun NAACP Chapter President Michelle Thomas explained to the Loudoun Times-Mirror just how traumatic that experience must have been for the young boy.
"Obviously, he's the only one that's black, he's the only one that could have ever been related to someone who used to be a slave, and imagine him carrying that stigma all through school," she said – later clarifying that he may not have been the only black student who was instructed to participate in the game.
Thomas added to Buzzfeed News that the so-called game was "sickening…racist" and slavery should "never be taken lightly."
A school board meeting was held and Principal David Stewart sent out a letter to parents apologizing for the classroom activity. "This is contradictory to our overall goals of empathy, affirmation, and creating a culturally responsive learning environment for all," he wrote. "The lesson was culturally insensitive to our students and families. I extend my sincerest apology to our students and school community."
Since then, teachers at the school were given bias training and informed that all future interdisciplinary history activities would be run by the principal beforehand. The staff also tried to rectify their actions in the classroom.
"The lesson was retaught and the mistakes with the original lesson discussed with students," Stewart said. "As adults, we feel it is proper to model conduct and accept responsibility when a mistake is made."
This is part of a broader issue when it comes to cultural insensitivities in the school district's classrooms, Thomas said. She pointed to Attorney General Mark Herring, who is currently under fire for wearing blackface in college, and noted that he attended Loudoun County Public School.
"[Herring] graduated from Loudoun Valley, so of course he wouldn't know what he was doing, going up, dressing as blackface, because blackface is never discussed in the curriculum. When we discuss Jim Crow, it doesn't come up," she told the Loudoun Times-Mirror. " … The insensitivity is astronomical. We are in a racism crisis in Virginia, and the school is where it starts."