Elijah Wood Reveals An Orc In 'LOTR' Was Designed After Harvey Weinstein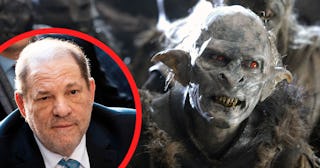 JOHANNES EISELE/AFP/Getty and The Lord of the Rings Trilogy/Facebook
Elijah Wood spilled the tea on the petty "fuck you" that was sent to Harvey Weinstein while filming Lord of the Rings, and TBH, we're not mad at it
Harvey Weinstein deserves no love. None. Zero. The disgraced former Hollywood producer was one of the most powerful people in the industry — until women started coming forward to tell the stories of how he'd used that power to destroy their careers, abuse them, and, often, rape them. In a word, fuck that guy. And, uh, we're not the only ones who feel that way. Apparently, "Fuck Harvey Weinstein" was a big sentiment on the set of the Lord of the Rings trilogy.
Yeah, you probably weren't expecting that celebrity crossover to happen today. Elijah Wood, who starred in the trilogy as the hobbit Frodo, recently appeared on Dax Shepherd's "Armchair Expert" podcast. And while their conversation covered a wide range of topics, there was one moment where Wood shared some behind-the-scenes tea that apparently, several of the cast members have been talking about. When Wood brought it up, he was actually alluding to an episode of "The Friendship Onion" podcast, which is hosted by his buddies and Lord of the Rings co-stars Dominic Monaghan and Billy Boyd.
"They were talking to Sean Astin about his first memory of getting to New Zealand for the first time," Wood explained. "He had seen these orc masks. And one of the orc masks — and I remember this vividly — was designed to look like Harvey Weinstein as a sort of a fuck you."
Unfortunately, no one was saying that to Weinstein because he's a literal rapist. As the story goes, the Lord of the Rings movies were originally supposed to be made by Weinstein's production company, Miramax. But director Peter Jackson had a vision for three films — one to cover each book — and Weinstein reportedly didn't want him to make that many. That's why Jackson took his plan to New Line Cinemas, who greenlit the trilogy, made a butt-ton of money, and won pretty much all the Academy Awards. Sucks to suck, Harvey Weinstein.
Of course, Weinstein would go on to be successful for many more years after this drama. But now? He's convicted of sexual assault and rape and should be in prison for the foreseeable future, which is why Wood felt like this is the time to spill the tea.
"I think it's okay to talk about this now," he said. "He's fucking incarcerated."
Amen to that.