Young Woman's Brave Plane Protest Stops Man's Deportation
by Christina Marfice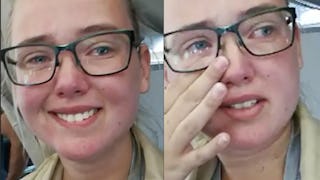 Image via Elin Ersson / Facebook
Elin Ersson refused to let her flight take off with a man facing deportation on board
Nearly 3 million people have watched the video Elin Ersson live streamed to Facebook Monday. In the background, you can hear angry passengers shouting at her to sit down. Ersson, her cheeks red, eyes full of tears, stays calm and tells her audience what's going on. She's standing in the aisle of her flight to stop the deportation of a 50-year-old man from Sweden to Afghanistan.
The flight can't take off if Ersson doesn't take her seat, and throughout the 14-minute video, she remains steadfastly upright in the aisle. When flight crew tell her she's an "unruly passenger," she responds, "I'm doing what I can to save a person's life." She cites ongoing conflict in Afghanistan. She says the man is likely to be killed if he's forced to go back.
"I was so caught in the moment that I didn't really realize that everyone was looking at me," she told The Guardian after her video went viral. "My focus was all on stopping a deportation to Afghanistan."
Throughout the whole ordeal, Ersson stays calm. Even when an English passenger approaches her and yells at her, "You're upsetting all the people down there; I don't care what you think," before stealing her phone, she stays calm and resolute. She doesn't break down, until other passengers figure out what she's doing and start to show their support. A man a few rows away tells her she's doing the right thing. A football team in the back of the plane stands up as well. People start to applaud. And only then does Ersson cry.
"It felt good, when the Turkish guy started talking to me and making sure that I knew I wasn't alone," she said. "It felt really good. He was saying what I was doing was right."
Ersson, a student at the University of Gothenburg who wants to be a social worker, has been volunteering with refugee groups for a long time. Nearly 200,000 refugees seek asylum in Sweden each year, and more than half of them are from Afghanistan. But only 28 percent are allowed to stay, in part because Afghanistan is considered a "safe" country, even though thousands of civilians are killed there each year.
"People there are not sure of any safety," Ersson said. "They don't know if they're going to live another day. As I've been working and meeting people from Afghanistan and heard their stories, I've been more and more in the belief that no one should be deported to Afghanistan because it's not a safe place. The way that we are treating refugees right now, I think that we can do better, especially in a rich country like Sweden."
Sweden's ongoing immigration battle mirrors the one happening in the United States, where asylum seekers from Central America are largely turned away, including hundreds who were recently deported without their children.