Eliza Dushku Shares Story Of Being Sexually Molested On Set At 12 Years Old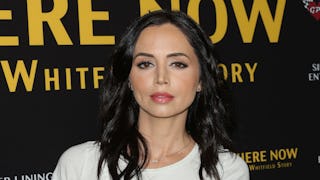 Image via Getty Images/Paul Archuleta
Dushku was just 12 years old when a stunt coordinator allegedly assaulted her
Actress Eliza Dushku is sharing her own #metoo story and her account of what happened at just 12 years old is heartbreaking. Dushku, who has been a working actress since she was a child, bravely went into painful detail about what she said happened at the hands of a 36 -year-old stunt coordinator on the set of the True Lies.
"When I was 12 years old, while filming "True Lies", I was sexually molested by Joel Kramer, one of Hollywood's leading stunt coordinators," Dushku wrote in a Facebook post. "I have struggled with how and when to disclose this, if ever."
The Buffy the Vampire Slayer actress said Kramer gained her families trust over the course of the shoot then brought her to a hotel one day, telling her family he was taking her there for a swim.
"I remember, so clearly 25 years later, how Joel Kramer made me feel special, how he methodically built my and my parents' trust, for months grooming me; exactly how he lured me to his Miami hotel room with a promise to my parent that he would take me for a swim at the stunt crew's hotel pool and for my first sushi meal thereafter," Dushku wrote.
She then recounts how he took her to his hotel room, drew the shades and went into the bathroom to undress. She said he emerged minutes later, naked, and laid down on her. Dushku was still clothed, pretending to be asleep and Kramer said, "You're not going to sleep on me now sweetie, stop pretending you're sleeping," as he rubbed harder and faster against my catatonic body. She says when he was "finished" he suggested, "I think we should be careful…," [about telling anyone] he meant. I was 12, he was 36."
She said afterwards, she confided in her parents, two adult friends, and one of her brothers. "At the time, I shared what happened to me with my parents, two adult friends and one of my older brothers. No one seemed ready to confront this taboo subject then, nor was I."
Dushku said Kramer still works in the industry and a few weeks back she came across a photo on the internet of Kramer hugging a young girl. "That image has haunted me near nonstop since. I can no longer hide what happened," she explained. And so she came forward.
She also said watching other brave men and women come forward in recent months also gave her the power to be able to share her story. "I hope that speaking out will help other victims and protect against future abuse," she wrote.
The actress has received a ton of support since she came forward to speak her truth:
"With every person that speaks out, every banner that drops down onto my iphone screen disclosing similar stories/truths, my resolve strengthens," she wrote. "Sharing these words, finally calling my abuser out publicly by name, brings the start of a new calm."