Elizabeth Gilbert Pens Powerful Post About Grief 6 Months After Losing Her Partner
by Thea Glassman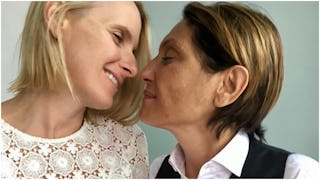 Image via Elizabeth Gilbert/Instagram
Elizabeth Gilbert wrote a heartbreaking post about losing her partner and dealing with grief
Six months ago, Elizabeth Gilbert lost her partner Rayya Elias to cancer. Now, the Eat, Pray, Love author is opening up in an Instagram post about the gut-wrenching grief she's been experiencing in the aftermath of Elias' death. Her words are powerful, honest, and completely heartbreaking.
Gilbert took to social media to share a picture of herself with her partner at their commitment ceremony. Elias had already been diagnosed with terminal cancer, she explained, but that didn't change the vows they exchanged with one another. Not one bit.
"What does 'forever' mean, when one of the lovers has terminal cancer?" Gilbert wrote. "That's simple: It means FOREVER."
Gilbert went on to explain that her emotions have been up and down since Elias passed away. Some days, she's okay. Other days, not so much. The fluctuation of her feelings has taught her a very important lesson about grieving.
"I have learned that Grief is a force of energy that cannot be controlled or predicted," she explained. "It comes and goes on its own schedule. Grief does not obey your plans, or your wishes. Grief will do whatever it wants to you, whenever it wants to. In that regard, Grief has a lot in common with Love."
So, what's her solution to dealing with this truly awful, painful emotion? Well, Gilbert said, she doesn't do anything at all.
"The only way that I can 'handle' Grief, then, is the same way that I 'handle' Love — by not 'handling' it. By bowing down before its power, in complete humility," she wrote. "…How do you survive the tsunami of Grief? By being willing to experience it, without resistance."
The author added that she responds "I am willing" whenever grief visits her. When grief reminds her that she won't hear her partner's laugh again, she says, "I am willing." When grief reminds her that she won't smell her partner's skin again, she says, "I am willing."
"I don't know where Rayya is now," Gilbert concluded in her post. "It's not mine to know. I only know that I will love her forever. And that I am willing. Onward."
This article was originally published on