Elizabeth Warren's Dog Is Eating His Feelings In Viral Burrito Video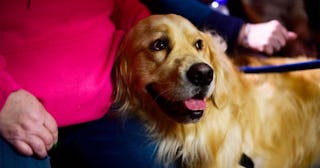 Mark Makela/Getty
Just let Bailey have the burrito, Elizabeth Warren
We can only imagine it's been a rough 24 hours at the Elizabeth Warren campaign headquarters. The Massachusetts senator just announced yesterday that she was ending her campaign for president, leaving us once again with the overwhelming feeling that our dreams of having a woman running this country will stay out of reach. For the senator and her fans, it's pretty devastating to be faced with the reality, once again, that internalized misogyny runs so deep in this country, it's still impossible for even the most qualified woman to win a presidential election.
And so Warren's dog, Bailey, reacted how I can only assume many of us did: He ate his feelings. Only Bailey is a dog, and because of that, he couldn't just pull out his phone and order two dinners worth of Panera Bread on Seamless like we do. Instead, the poor pup had to resort to stealing to get a good emotional eat in.
Warren's press secretary, Gabrielle Farrell, tweeted a video of the moment, which immediately went viral.
"Bailey legit just swiped someone's burrito," she wrote, alongside a six-second video of no fewer than three people trying to pry open the golden retriever's jaw to release its ironclad grip on what is, indeed, an entire burrito. Bailey, man, we feel you.
Immediately, the tweet went viral and the jokes started rolling in. There were plenty of Warren's fans who understood just how Bailey was feeling in that moment and asked the senator to just let Bailey have a burrito, on this of all days.
Plenty of people related to the dog and his chosen method of coping with all the feelings that came with Warren's announcement yesterday.
And even more people thought that now that Warren has ended her campaign, Bailey finally doesn't have to put his best paw forward and this is just his true self.
Warren made the announcement that she was ending her campaign on Thursday this week after a disappointing performance in the Super Tuesday polls. Earlier in the race, when Warren was earning similar numbers of votes to her competition, the media left her name out of reports, essentially erasing her from the race. Her departure also means that our once incredibly diverse field of Democratic candidates has been narrowed down to two old, white men. Voters may think they stand a better chance of defeating Trump, but for women everywhere (and Bailey, apparently) it's a devastating reminder that representation in politics is still at least four years away.
This article was originally published on