Elizabeth Warren Is Ending Her Presidential Campaign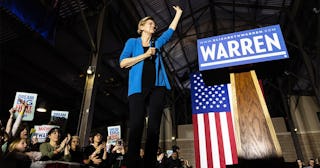 Barcroft Media/Getty
Once a front-runner in the race to be the democratic presidential nominee, Elizabeth Warren is now dropping out of the 2020 race
Following a disappointing Super Tuesday performance where she placed third in her home state, democratic presidential candidate Elizabeth Warren is dropping out of the 2020 race. She's expected to tell staff this morning of her plans to end her bid for president. Her exit comes after a campaign spent being erased by media and left by the wayside in favor of the (old, white, male) candidates who some voters think have a better chance at beating incumbent Donald Trump.
Warren's run was especially notable thanks to her endless policy plans that she spent her entire campaign rolling out. "I have a plan for that" became her unofficial motto, and for awhile, it was serving her very well. Polls had her as a front-runner last fall before she began to decline in numbers at the end of the year.
While Warren exiting the race is incredibly disappointing for those who supported her run, the senator's time running for president likely helped end the campaign of former NYC mayor and billionaire Michael Bloomberg. During debates, she went hard at the self-funded candidate for NDAs he had female employees sign about his alleged harassment of them. Arguably, his leaving the race is almost entirely her doing, as he had no defense for her brilliant, articulate, and relentless criticism.
Remember that this was the very woman for whom the phrase "nevertheless, she persisted" was coined for after she continued to object to the confirmation of Senator Jeff Sessions as U.S. Attorney General. Senate Majority Leader Mitch McConnell made the remark to defend the Massachusetts senator being silenced by the senate, and while intended to admonish her, the phrase only fueled a feminist movement in politics. Thanks, Mitch.
Her supporters and those who took note throughout the campaign of her superior intellect, steadfast leadership, and incredible potential are clearly heartbroken by the news that we've lost our chance for a President Warren.
Warren's campaign was also marked by the way she inspired young girls (and women) telling them at rallies that she's running for president "because that's what girls do." She famously "pinky-promised" little girls who came to meet her about that very thing, hopefully planting the seed for untold numbers of future female presidential candidates.
Now, after months spent winnowing down a once incredibly diverse field of candidates, American democrats are faced with two older white men to choose from. It's a sad state of affairs, especially for women who thought 2016 was their chance to see themselves represented in the Oval Office. Now, we wait another four years before that chance comes around again.
This article was originally published on