Elizabeth Warren Is Winning The Political Merch Game
by Valerie Williams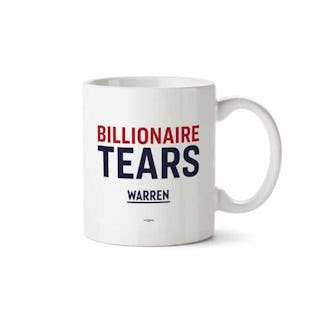 shop.elizabethwarren.com
Elizabeth Warren killed it during this week's debate and she's also slaying the political merch game
If you watched Elizabeth Warren obliterate some of the male candidates at this week's debate, (looking at you, Michael Bloomberg) then maybe you're now planning on voting for her in the primaries. Maybe you've also decided it's time to tell the world that you're on Team Warren or maybe you're even going to knock doors stumping for her — and what better way to do it than decked out in official Warren campaign swag? Good thing the woman with a plan for literally everything has you covered with merch that's equal parts sass, smarts, and inspiration.
Look y'all — I am always behind a woman who can make powerful men cry, and Warren 100 percent delivers on that fantasy. In November 2019, former Goldman Sachs exec Leon Cooperman began to cry on live TV while discussing the prospect of a Warren presidency because then, the poor dear would have to pay his fair share in taxes. The "Billionaire Tears" mug was born. "Savor a warm, slightly salty beverage of your choice in this union-made mug as you contemplate all the good a wealth tax could do: universal childcare, student debt cancellation, universal free college, and more," the description reads. Don't mind if we do.
The rest of her campaign gear is equally spot-on, so let's take a browse.
If you want to wear your love for Warren on your person, there are a number of options, but perhaps this t-shirt sums up our feelings best.
Or feel free to turn any clothing or bag you own into a walking billboard for the future Mrs. President by sticking on these buttons.
Are you a fan of White House dog candidate Bailey? Then Warren has a plan for that too with these adorable die-cut "Bae-ly" stickers that I need immediately.
Want to outfit your littlest Warren fan? She has a onesie for that.
If you need a little inspiration on your fridge, these magnets oughta do the trick.
You could send your kiddo to school with a little Warren power — or pocket these cool pencils for yourself.
Know a girl who can't wait to see a woman in the White House? This youth-size shirt features Warren's signature "pinky promise" that girls can run for president too.
Time to cover your house in inspirational woman-power Warren posters. Pretty sure my home office is screaming for these to be hung on the walls.
And if the stress of the primaries (and eventual Trump fight) are getting to you, get out your Warren pint glass.
It's going to be a grueling election season and hopefully, Warren will be the nominee. When that time comes, we will be ready.
This article was originally published on