Elizabeth Warren Announces She's Running For President In 2020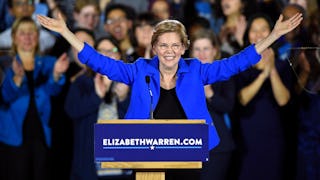 Image via Christopher Evans/Digital First Media/Boston Herald via Getty Images
Warren is launching an exploratory committee for the 2020 presidential race
Elizabeth Warren, the Democratic senator from Massachusetts, just threw her hat in the ring for the presidential race. She's the first major Democratic candidate (of what will likely be many) to try to win the bid to (hopefully) take down Trump in 2020.
"No matter what our differences, most of us want the same thing," the 69-year-old said in a video announcing her candidacy. "To be able to work hard, play by the same set of rules and take care of the people we love. That's what I'm fighting for and that's why today I'm launching an exploratory committee for president."
Twitter kicked into overdrive soon after, many gently (and not so gently) gearing up for a fight circa 2016 to get ahead of the "she's not the right candidate" and "she's too this or too that" conversations, all of which would never happen if Warren had a penis.
The race for the 2020 Democratic nomination is looking like it will be big one, with potential candidates like Beto O'Rourke, Cory Booker, Joe Biden, and Bernie Sanders all being speculated upon. And after the midterms saw many young women, minorities, and liberals win, the playing field will be ripe for candidates like Warren.
Warren is a proud progressive with a track record of taking on the rich and powerful, big banks, and doing her part to tackle corruption in Washington. But it's her ability to ruffle the feathers of Trump that's gotten her the most attention.
"She gets under his thin skin like nobody else. Whether she's calling him out about his mysterious tax returns, she exposes him for what he is — temperamentally unfit and totally unqualified to be president of the United States," Hillary Clinton once said of Warren.
Warren's campaign is likely to revolve around protecting the middle class, battling special interest groups, and continuing to highlight the racial and economic inequities in our country. She's an experienced woman with a proven record of success in the Senate and isn't afraid to speak out against social injustice and a president who cares little about it.
"I've spent my career getting to the bottom of why America's promise works for some families, but others, who work just as hard, slip through the cracks into disaster," Warren continued in her announcement. "And what I've found is terrifying: these aren't cracks families are falling into, they're traps. America's middle class is under attack."