by Renee Dale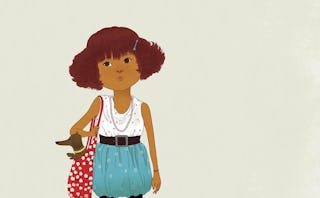 In places like Portland and Brooklyn—twinned self-awareness capitals of the United States—not only do we spend a lot of time purveying preciousness and teensiness and whole-hog butchery and pickling everything that isn't nailed down, but I think we practice an acute Awareness of all this as a hedge against mockery. We are versed in the art of doing things small, local and handmade, then talking at length and with great seriousness of tone about the small, local, handmadeness of our hearts, minds, bodies, and kimchi, followed by a lighthearted puncturing of all the seriousness with a crack about the predictability of all this. And then we go ahead and eat all the kimchi with implements whittled in a warehouse along the banks of the Gowanus. See? I'm doing it. Because though I could do without the fatiguing, false sense of importance, I do indeed crave the kimchi and I don't like Walmart and I'm not ready to move to a small town in Montana. Participation, at different levels, is unavoidable.
Sometimes self-awareness gets turned into pitch perfect satire like Portlandia, and sometimes it gets sculpted into a witty and wonderful parody like Mallory Kasdan's new children's book, ELLA. ELLA is a re-imagining of Kay Thompson's Eloise, this time with the smart, highly evolved and lovable six-year-old urban girl living in a place she calls The Local Hotel. It's a place, Ella tells us, that has a door "with no obvious signage."
© Mallory Kasdan and Marcos Chin
In her mother's long-term absence, Ella is cared for by a collection of urban villagers who take up residence and employment at the buzzy Local. She has a male nanny called Manny, who of course has tattoo sleeves and is considering "going in with some guys" on a grilled cheese food truck. There's Maverick, a bouncer from the rooftop bar, at work on his screenplay, and Topher, the hotel's Artist in Residence who also happens to be a dog walker.
© Mallory Kasdan and Marcos Chin
Like Eloise before her, Ella thinks ordering food and charging it is divine, only she prefers pizza to Eloise's "planked medallion of Beef Tenderloin." In one of my favorite lines, the pizza is cooked in a giant oven with a roaring fire "that runs on logs from the country." Log provenance matters in self-aware hotspots. Clearly writing from a place of expertise within the capital, Kasdan uses restraint with the witty details and gives us unique and unexpected gems throughout. These delightful bits of hipster detritus are there for the adult companion reader but won't diminish a child's enjoyment whatsoever. After all, it often takes a child to refract the humor of self-serious adults. Kids will certainly recognize themselves when Ella tells us that "…like most children I'm quite scheduled." She's also "into meditation, Zumba and drum circles." I laughed often and out loud reading the book and felt an easy warmth for these characters.
The illustrations by Marcos Chin are gorgeous and, much like Hilary Knight's beloved art for Eloise, are layered with humor, enriching the text with a ton of memorable detail. There are hanging terrariums—now sold everywhere from flea markets to West Elm—dangling in Ella's bedroom, a guitar propped against the wall, and a sweet image of her muddling mint leaves. The clothes—tapered jeans, ankle boots, glorious ponchos—and the characters—with every delicious shade of skin, haircut, beard style, edgy piece of jewelry—are a rewarding feast to pore over.
© Mallory Kasdan and Marcos Chin
Kasdan has great affection for Ella, and also for the time and place where she's being raised. Young readers will as well. Like Eloise, she is instantly charming and alluring; equipped with the non-sequiturs and cadence you'll remember loving. When Kasdan departs from Eloise, it's in a way I find very moving, even welcome. With an unavoidable nod to the guilt woven into modern child-rearing, there's a blueness in a few passages that mention Ella's far away mother, an actress whom she Skypes with and watches in movies "where she pretends to be other kids' moms." She says, "Then it's almost like she's here with me."
Ella also peeps with her binoculars into other buildings at night and sees "a dad get a kid a glass of water and a kid read a book with a flashlight before a mom comes in and the light goes off and all is still." The mood is momentarily melancholy before shifting to something else—an existential epiphany Ella has about her own smallness in the galaxy, and the idea of being "everything and nothing too."
It's a beautiful passage, and one I hope children will cling to when they read it. Long after trends and hobbies and lifestyles change, as they have a hundred times since Eloise was first published, and after the celebration and/or gentle parody of livelihoods so niche as to become invisible when turned sideways switch to celebrations of other things, there will still be the immense night sky—the same one Eloise would have seen from the Plaza Hotel—for children to gaze upon. To look up at with wonder and feel small but somehow safe; excited about tomorrow and what's to come.
This article was originally published on