Ellen Addresses Toxic Workplace Accusations In Season Premiere
by Julie Scagell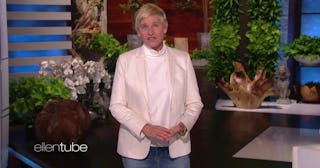 YouTube
Ellen DeGeneres also addressed accusations that she's not the "Be Kind" person she shows on TV
The Ellen DeGeneres Show has returned on-air and the host wasted no time discussing what's happened as a result of recent accusations of sexual harassment, racism, and intimidation by top executives of the show.
DeGeneres addressed the controversy during a seven-minute monologue, using her signature humor to kick things off. "How was everybody's summer, good? Mine was great," DeGeneres joked. "There are a lot of things I want to talk about. I've been looking forward to addressing it all directly, and unfortunately talking directly to people has been illegal for six months."
The actress and comedian turned more serious and talked at length about what transpired and what changes happened as a result. "As you may have heard, this summer there were allegations of a toxic work environment at our show and then there was an investigation. I learned that things happened here that never should have happened," she said.
In April, crew members came out publicly about things that have been happening for years behind the scenes. Some employees complained of pay reductions, a lack of communication, poor treatment after the pandemic shut down production, racism, and sexual harassment. WarnerMedia launched an investigation resulting in the removal of several top producers.
"We have made the necessary changes," DeGeneres said during her monologue, saying, "a new chapter" of the show would be happening moving forward.
"I want to say I am so sorry to the people who were affected. I know that I'm in a position of privilege and power and I realize that with that comes responsibility, and I take responsibility for what happens at my show," she stated.
DeGeneres also talked about the many pieces that were released this summer stating she made the show a hostile workplace and was an entirely different person than she appears on TV. "The truth is I am that person that you see on TV. I am also a lot of other things. I sometimes I get sad. I get mad. I get anxious. I get frustrated," she said. "I get impatient. And I am working on all of that."
She also addressed that the show has her name on it and it is up to her to move forward with her employees in mind. "Now I am a boss of 270 people, 270 people who help make this show. All I want is for every single one of them to be happy and to be proud to work here," she said. "I want to continue to help all the people that we help every day. And I'm committed to making this the best season that we have ever had."