A Bored Ellen Calling Her Isolated Celeb Friends Is The Content We Need Right Now
by Madison Vanderberg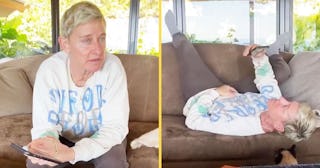 Ellen DeGeneres/Instagram
Ellen DeGeneres shares videos of herself calling her famous friends during self-quarantine
Celebs — they're (surprisingly) just like us. All around the world, people are practicing social distancing — or in some cases, full quarantine — to flatten the coronavirus curve, and that includes celebrities. But hiding out at home can get pretty damn boring. Ellen DeGeneres, whose daily talk show is on hold just like most other television shows, is at home in her sweats, lying on the couch, and annoyingly calling her friends to say "I'm bored," and like, same. However, unlike us, Ellen's friends are famous and she's posting the videos of their calls to Instagram, and it's so great.
You know when you call your friend or family member with nothing to say, but you just kind of both want to exist on the phone together? Yeah, famous people do that too apparently. Ellen has been sharing videos of her flopping around the house and calling all her famous pals like Adam Levine, Justin Timberlake, Jessica Biel, John Legend, and Chrissy Teigen, and literally all of them are doing "nothing."
First, Ellen calls Levine for his birthday and he's like, "I'm just sitting here." Lol, relatable.
Then, Ellen calls Justin and Jessica and is like, "Justin, what are you doing?" and he's like, "Nothin'," then Ellen goes, "Jess, what are you doing?" and she says, "nothin'." Before Ellen hangs up with her two bored pals, JT tells her, "Okay, call me in an hour," and wow, who knew Ellen and and Justin Timberlake had the exact same relationship as me and my sister?
After that famous duo, Ellen rings John and Chrissy who answered with the kids and were also… very bored.
"I wish I had kids right now. I'm so bored," DeGeneres joked. "Just wanted to call you guys and say hey. Bye."
Before Ellen pivoted to pestering her contact list, she was documenting her attempt to put together a 4,000-piece puzzle and hilariously tapped out after only laying out the puzzle pieces.
"4,000 pieces is ridiculous, I don't have a table big enough!" Ellen exclaimed.
Maybe Ellen will stick with the celeb cold calls unlike the puzzle adventure. Also, we don't know if Ellen's taking requests yet, but we know she's BFFs with Jennifer Aniston, so… call Jen maybe?
This article was originally published on