6-Year-Old Panthers Fan Gets A Super Bowl Surprise From Ellen That Will Have You In Tears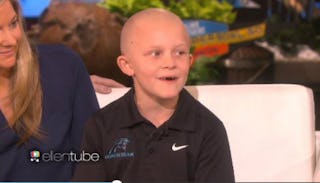 Ellen DeGeneres is sending a 6-year-old Carolina Panthers fan with brain cancer to the Super Bowl.
The Super Bowl is coming up this weekend and it's expected to be a tight game between the Denver Broncos and the Carolina Panthers, but the Panthers may have an extra bit of good luck because Ellen DeGeneres is sending their biggest fan to root for them from the field.
According to Today, 6-year-old Braylon Beam is a big, big fan of the Carolina Panthers. Last August Braylon, who is currently fighting a brain tumor, was even the Panthers' head coach for a day as part of his dream come true from the Make-a-Wish Foundation. So it's pretty exciting for him that the Panthers made it to the Super Bowl this year, and he is very optimistic that they are going to win.
In fact, Braylon is such a Panthers fan that when he went on Ellen DeGeneres' show this week and she asked him how he was feeling, he said that he was feeling awesome. "I think this is a Panthers' year!" he said excitedly, thinking Ellen was asking him how he felt about the Panthers' Super Bowl chances, when actually she was asking about his health and if he was feeling OK. It looks like he is feeling healthy enough that he would mistake her question for being about the Panthers, though, and that seems like a pretty great sign.
Braylon and his family originally came to DeGeneres' attention because he and his dad were having daily dance sessions at the children's hospital where he was receiving chemotherapy for a tumor on his optic nerve. The tumor was discovered while doctors were checking Braylon's vision because teachers at his school noticed he seemed to be having trouble seeing the blackboard. They probably just thought he might need glasses, but then doctors discovered that the cause of the vision problem was a tumor.
That had to be devastating news for Braylons's parents, but his mother told Ellen they had received good news at a recent doctor' visit. Doctors say his tumor has stabilized, and the optometrist is optimistic about his vision.
While Braylon's parents are happy about his health, Braylon is happy about the Super Bowl tomorrow night. He's already calling the win for the Panthers, and predicts a score of 25 to 20. And if it turns out he's right, he'll be able to be there to watch it happen, because Ellen surprised the family with the news that she'd be sending them all to the Super Bowl this weekend in a private jet. He will be reporting from the field before the game and during halftime as the Ellen show's official Super Bowl correspondent.
Braylon and his family weren't expecting that gift, and when Ellen announced it their faces were absolutely priceless. Braylon couldn't have looked any happier if he'd just won a Super Bowl ring of his own. The whole video is really heartwarming to watch and can be seen here:
This article was originally published on