Grab A Tissue And Watch This Entire Class Win College Scholarships On 'Ellen'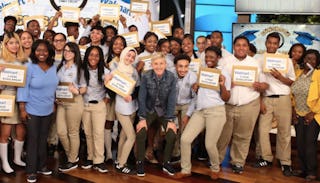 Image via Instagram
All 41 seniors will go to college next year for free
On a recent episode of "The Ellen DeGeneres Show," viewers were allowed in on a very exciting and emotional moment for a group of Brooklyn high school seniors. Together with Walmart, the Emmy-winning talk show host was able to give the most incredible gift to 41 teens who had no idea it was coming.
On her February 9th episode, DeGeneres had Brooklyn's Summit Academy Charter School's founder, Natasha Campbell, and principal, Cheryl Lundy Swift, appear on the show. During that episode, the pair of educators were gifted $25,000 from Walmart to further the goals of their school, but Ellen wanted to do more.
Once again, enter, Walmart. The retail giant stepped up in a big way offering to pay for college for the entire class of 2017.
After hearing a little background on Campbell and Swift's first appearance, we get to see the lead-up to Ellen surprising the teens with the life-changing news that none of them would have to worry about paying for college. The host told Campbell and Swift to bring back some of their students to talk about their experience at the school on a future episode, and that's how all 41 seniors ended up meeting Ellen.
In their first appearance, Campbell and Swift explained that the Brooklyn community of Red Hook, where the Summit school is located, is one of the city's most "underserved" areas, with only 4% of adult residents holding a college degree or having any college education at all. 28% of the area's kids under age 16 live in poverty. Despite those bleak statistics, Summit's class of 2016 had an impressive college attendance rate of 93%. This year, the educators are hoping that 100% of the senior class will go to college.
And thanks to Ellen and Walmart, that's going to happen. Before telling the kids the big news, the host sat down with three of the seniors and heard stories about how hard they've worked to get to this point and what attending Summit means to them. It's clear this school is a special place, and these teens have huge dreams. Happily, those dreams are that much more attainable with their college education paid for.
After surprising the group with the incredible gift, Ellen explained that the scholarships are good for a 4-year degree from any New York state university. The announcement was met with screaming, jumping up and down, and even tears. The kids were astonished and grateful with one yelling out, "Thank you so much, Ellen!"
And the students weren't the only ones feeling some big emotions — Ellen herself was visibly choked up after delivering the exciting news. "Thank you," said DeGeneres. "Be kind to one another."